The classic full-function intelligent diagnostic tool with brand-new user-friendly design while delivering ultimate performance. Featuring the 1.8GHz 8-core processor and Android 9.0 operation system, the X-431 PRO3 V4.0 is an ideal solution that has everything you need for managing your repair jobs smartly and conveniently, save your time and boosts your productivity.
---
Currently on Promotion (while stocks last)
Price drop from R32 900 to R29 900 incl VAT
Get a free battery tester with your purchase
---
Main functions
Read fault codes & provides a description
Clear fault codes & warning lights (e.g. airbag, ABS, engine light etc)
Service functions – interval light / oil reset light / EPB / injectors etc
Access to live data streams (oxygen sensor rich/lean indication, mass air flow etc)
Actuation / Component testing(activate specific systems to test working condition)
Coding (Injectors, spare keys, radios and even starters are now coming out 'coded'. This function is indispensable if you need to change those vehicle parts)
Extended Modules (Optional Extras):
VSP-600 (Videoscope)
X-Prog 3 (immobilizer programmer)
BST360 (Bluetooth battery tester)
X-431 TSGUN (TPMS)
Wifi Printer
HD Module (for 24V Heavy Duty diagnostic software)
---
Software: 
Full vehicle system diagnosis, coverage for the abundant US, Asian and European makes and models
Automatically identify VIN upon connection to the vehicle for intelligent diagnosis
15 special functions for the main brands
Support X-431 ADAS calibration
Support 2.4GHz/5GHz WiFi connection
Compatible with LAUNCH videoscope and X-PROG
Remote diagnosis allowing you to work on a vehicle from your tool without being on-site
One-click upgrade and silent install of software
Integrated database with comprehensive vehicle service and repair information
Diagnostic records and reports can be stored in the cloud without any concern of data missing
An integrated lookup table of vehicle coverage
---
Special Functions: 


---
Launch X-431 Pro 4th Gen Software Package List:
Audi, Mercedes, Benz, BMW, Citroen, Fiat, Jaguar, Lancia, Landrover, Opel, Peugeot, Porsche, Renault, Romeo, Rover, Saab, Seat, Skoda, Sprinter, Volkswagen, Volvo, Daihatsu, Suzuki, Mahindra, Maruti, Tata, Honda, Isuzu, Mazda, Mitsubishi, Nissan, Subaru, Toyota, Daewoo, Hyundai, Kia, Ssangyong, Perodua, Proton, Opel Ford, Chrysler, Gm, Acura, Infiniti, Lexus, Holden, Brilliance, Byd, Changan, Changcheng, Changhe, Chery, Geely, Gonow, Hafei, Jac, Jiangling, GMSA, Tianjin, Few, Xiamen, Golden, Xinaki, Zhongshun, Zhongxing, Zotye.
For the full and detailed vehicle coverage and function list:
Go to the official Launch coverage website
by "Please select channel", choose -> "Overseas" (This is an official overseas dealer model, beware of Online-sales or China mainland models as coverage will be different)
Choose "Professional diagnostic"
Choose "X-431 PRO V4.0"
Lastly, then choose an OEM, Model, Year, System, Function to see the details
---
Specifications: 
| | |
| --- | --- |
| Operation system | Android 9.0 |
| CPU | 1.8GHz, 8-core processor |
| Memory | 3GB |
| Storage | 32GB (max. 128GB expandable memory) |
| Screen | 10.1" touch screen |
| Camera | Rear 8 Megapixels, front 5 Megapixels |
| WiFi | 2.4GHz/5GHz |
| Size | 265*214.5*50.5mm |
Includes OBDI (older plugs), please see the unboxing video below for reference:
Audi 4pin
Benz 14 pin
Benz 38 pin
BMW 20pin
Chrysler 6 pin
Daewoo 12 pin
Daihatsu 4 pin
Fiat 3 pin
Ford 6+1 pin
Geely 22pin
GM/VAZ 12 pin
Honda 3pin
Kia 20pin
Mazda 17 pin
Mitsubishsi 12+16pin
Nissan 14 pin
Ssangyoung 14 pin
Ssangyoung 20 pin
Subaru 9 pin
Suzuki 3 pin
Toyota 17 pin
Toyota 22 pin
X-431 PRO Series Comparison Chart: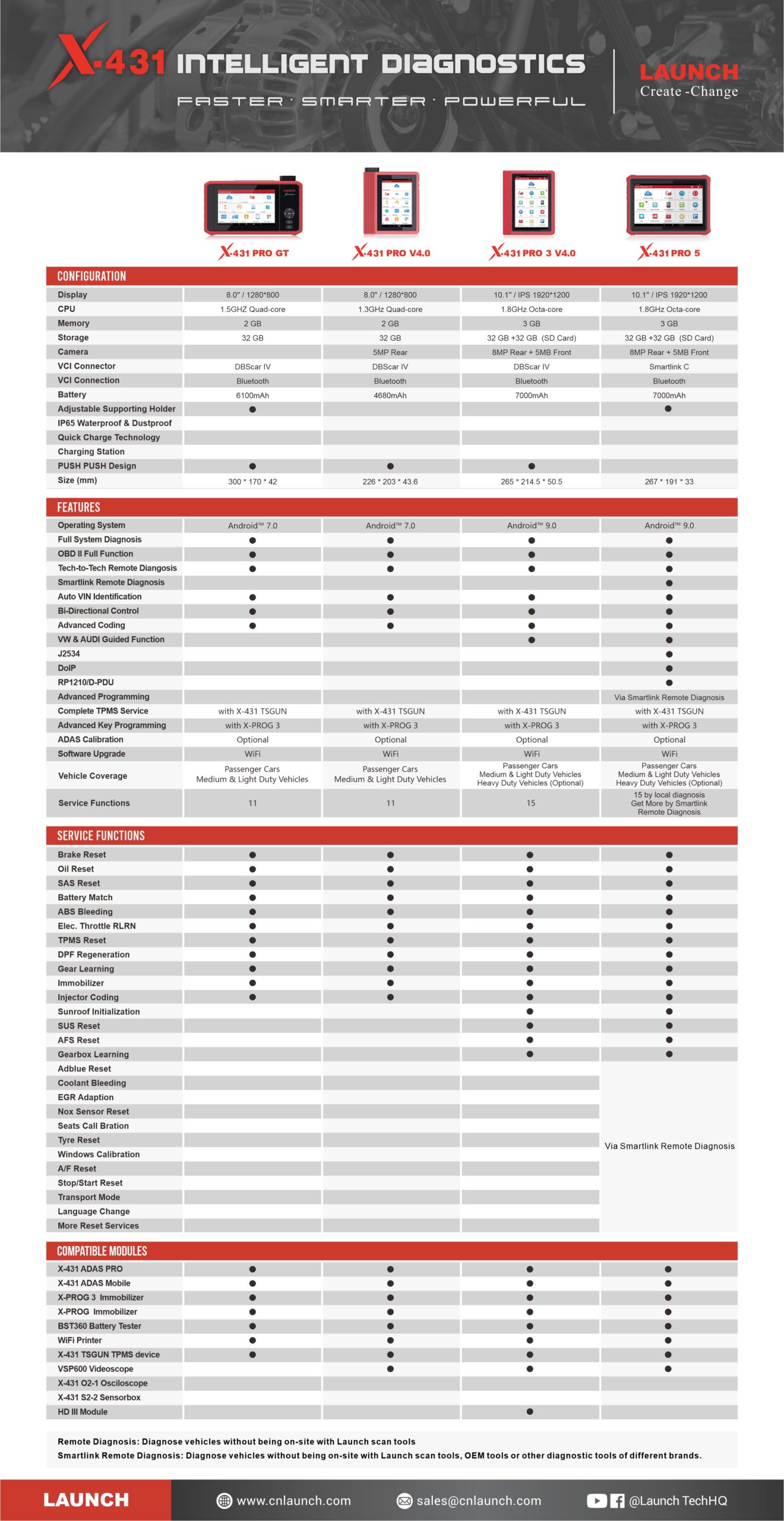 ---