Xhorse Dolphin II XP-005L Key Cutting Machine
Manufacturer: Xhorse
Dolphin XP-005L is newly released by Xhorse, Dolphin II key cutting machine, that is an update of the XP-005, it is smarter and safer. Xhorse Dolphin XP-005L features an HD touchscreen with a self-developed system, a protection shield providing a cleaner and safer working environment, and 3 intelligent indicator lights. The DOLPHIN XP-005L comes with the best virtues you could ever want.
Dolphin XP-005L is a portable automatic key cutting machine and is compact and lightweight. It is an ideal product for locksmiths worldwide. The Xhorse Dolphin XP-005L is the perfect tool for cutting keys. It can duplicate bitting and cut car keys and even a few household door keys.
Xhorse Dolphin XP-005L Highlights:
1. New Angle Adjustable 5-inch HD Touch Screen and Transparent Protective Shield.
2. Innovative Colorful Indicator Lights with a Built-in Lithium Battery.
3. Support Both WiFi and Bluetooth, Smart APP Control, and Free Online Updates.
4. Supports Multi-Purpose Clamps with a Built-in Vehicle Database.
5. The machine is more Portable and only weighs 13KG. It also has a design that makes it easy to carry.
6. Multi-Functions: Optical key bitting recognition, ALL key lost, key duplication, cut by bitting, find bitting, and more.
7. Lifetime Free Update Online: Supporting Online Updates via Xhorse APP.
8. Dolphin XP-005 L Device Language: English Only
Xhorse APP Language: English, German, Spanish, French, Thai, Polish, Italian, Portuguese, Hindi, Hebrew, Korean, Indonesian, Chinese.
9. Bind with the VVDI MB Tool or VVDI Key Tool Plus and you will get 1 Free MB Token every day.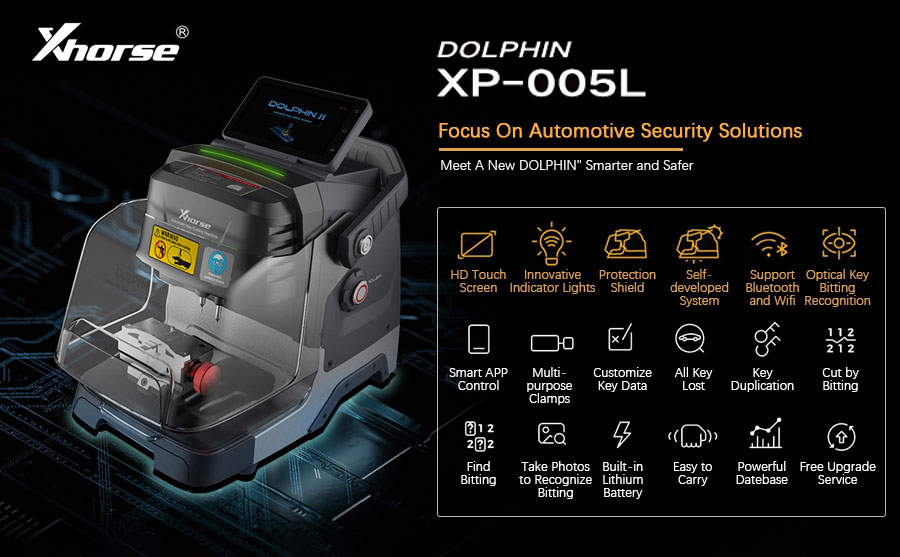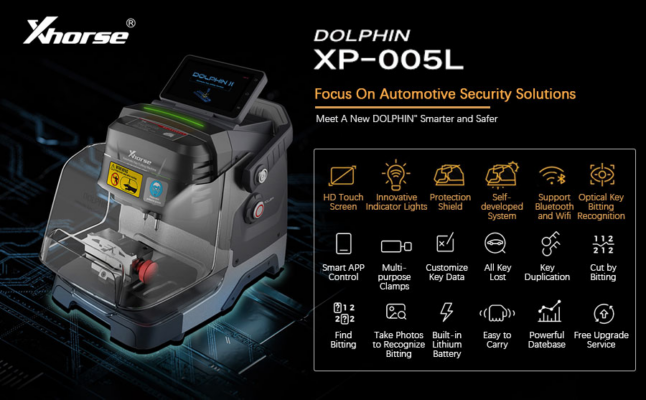 Key Features of the Dolphin XP-005L:
1. All Key Lost
2. Key Duplication
3. Built-in Lithium Battery Easy to Carry
4. Customize Key Data
5. Optical Key Bitting
6. Multi-purpose M5 Clam(No need to frequently replace M1 and M2 clamps)
7. Cut by Bitting
8. Find Bitting
9. Take Photos to Recognize Bitting
10. Recognition (Work with KEY READER)
11. Massive Vehicle Key Database Built-in powerful database covers over 100 car brands, 2,000 car models, and 20,000 key data.
12. Protection Shield
13. Smart APP Control HD Touch Screen
14. Support Bluetooth and Wifi
15. The indicator light changes colors with the change of real-time working status.
HD Touch Screen
Users can directly complete operations on the screen.
Xhorse Dolphin XP005-L Structure: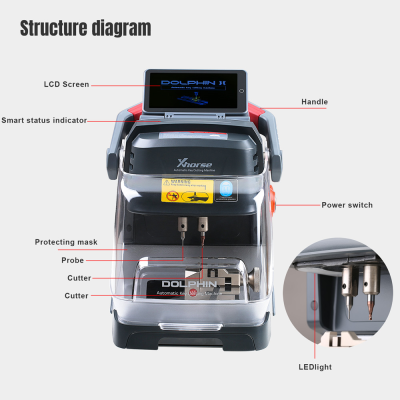 High definition screen minimizes eye fatigue.
The machine adopts an angle-adjustable 5-inch capacitive touch screen. You can set the angle of the screen based on actual needs.
Massive Vehicle Database
We provide a lifelong database upgrade service for free.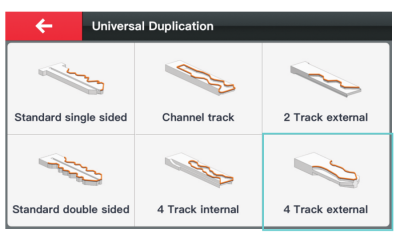 The indicator light changes colors with the change of real-time working status.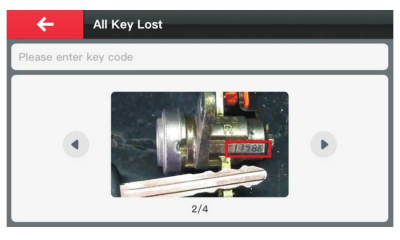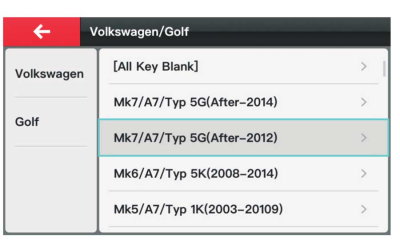 The built-in powerful database covers over 100 car brands, 2 000 car models, and 20 000 accurate key data, detailed parameters, and clear key graphics.
Transparent Protective Shield
The transparent shield enables users to check the real-time working status white preventing metal debris from spattering.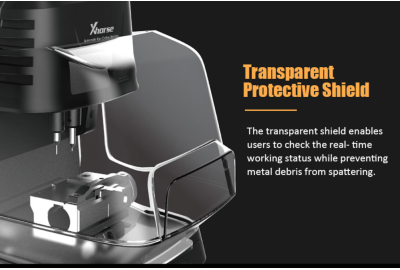 Innovative Colorful Indicator Lights
The indicator light changes color with the change of real-time working status.
Portable Solution
Thanks to its compact design, lightweight, it is much easier to take outside and provide users outdoor and roadside services.
Built-in well-known lithium battery, that is stable and reliable and supports cutting works without power supply access.
Manufacture Craftsmanship
All-aluminum body structure; Manufactured by Gennan-made DMG CNC machine to guarantee high precision cutting results.
The keys passed the rigorous testing of the Optical Instrument. It has a wider workbench, that is strong and steady to make you work more productively. It also maintains excellent performance even under extreme weather.
Support Bluetooth and WiFi
Support directly upgrades online via WiFi connection. Control the machine by Xhorse APP on your smartphone or other Intelligent terminals via Bluetooth.
Multi-purpose Clamps
A wide duplication availability guaranteed by a variety of functional clamps supports multiple key types, standard single-sided, standard double-sided, 2 track external, 4 track external, dimple, channel track, 4 track Internal, F021 & Citroen SX9 keys, residential keys, etc.
Xhorse Dolphin XP-005L is Standard equipped with Clamp M5.
Clamp M3 and Clamp M4 are optional.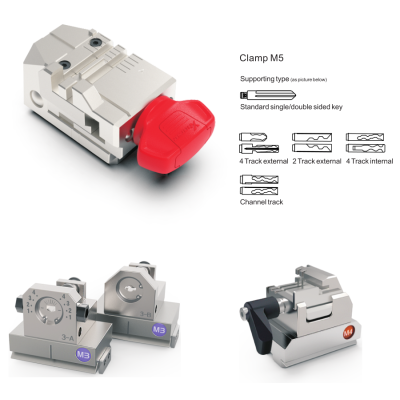 Xhorse Dolphin XP-005L Software Overview:
▪Supporting self-calibration
▪Supporting key duplication and cutting for vehicle keys
▪Supporting universal key decode for multiple key types
▪Operation on APP through Bluetooth
▪Build-in key database
Xhorse Dolphin II XP005L VS Dolphin XP005:
Item
Xhorse Dolphin XP-005L
Xhorse Dolphin XP005
Touch Screen
An angle-adjustable 5-inch capacitive touch screen and users can directly complete operation on the screen.LCD resolution 1280*720.
No
Protective Shield
Yes, a moveable transparent protective shield prevents metal debris from spattering.
No
Smart status indicator
With colorful indicator lights
(in blue: working;
in yellow: information notification;
in red: false alarm/error warning)
No
Bluetooth
Yes. Control the machine by the Xhorse app on your smartphone or other intelligent terminals via Bluetooth
No,XP-005 does not have a WIFI module, but support online update by Xhorse APP with smartphone via WIFI
Wifi
Yes, directly upgrade online via wifi connection
Yes, online update via Xhorse APP with smartphone
Multiple Clamps
Standard equipped M5 clamp (M1 and M2 2 in 1), and M3 Clamp(optional) , M4 Clamp(optional)
Support clamps M1, M2, M3(optional), and M4 (optional)
Hexagon bar wrench
2mm+4mm 3mm hexagon bar wrench, 3mm hexagon bar wrench,6mm hexagon bar wrench
2mm hexagon bar wrench, 4mm hexagon bar wrench
Weight
Net weight 13KG, Gross weight 18.5KG
Net weight 15KG, Gross weight 18KG
Battery
With built-in lithium battery
With built-in lithium battery
Language
English
English
Update online
Machine firmware and database upgrade via Wifi directly
Online software update on APP, update through Xhorse"Upgrade Kit"
Support Key types
Support multiple key types, standard single-sided, standard double-sided, 2 track external, 4 track external, dimple, channel track, 4 track Internal, F021 & Citroen SX9 keys, residential keys, etc
Same
Key database
Built-in powerful database covers over 100 car brands, 2,000 car models, and 20,000 key data Accurate key data, detailed parameters, and clear key graphics
Same
Function
Self-calibration, key duplication and cutting for vehicle keys, universal key decode for multiple key types
Self-calibration, key duplication and cutting for vehicle keys, universal key decode for multiple key types
Target users
Provide users outdoor and roadside services
Provide users outdoor and roadside services
Xhorse Dolphin XP-005L Specifications: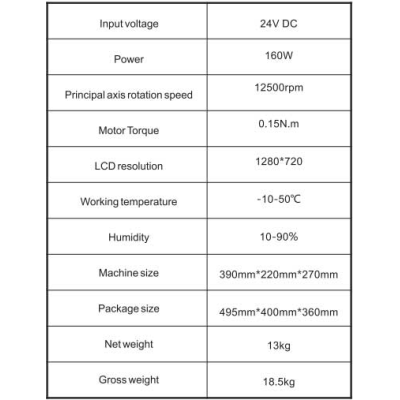 Xhorse Dolphin XP005L Package List: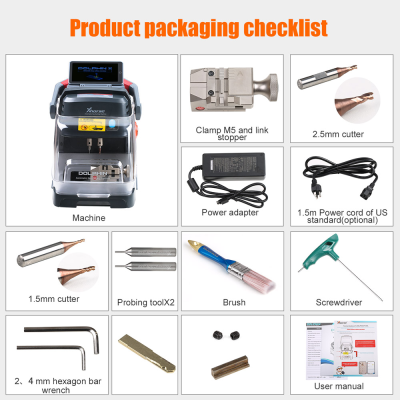 1pc x Machine
1pc x Clamp M5 and link stopper
1pc x Clamp M3 ( optional )
1pc x Clamp M4 ( optional )
1pc x 1.5mm cutter
1pc x 2.5mm cutter
1pc x Probe
1pc x 2mm+4mm 3mm hexagon bar wrench
1pc x 3mm hexagon bar wrench
1pc x 6mm hexagon bar wrench
1pc x Protective bracket
1pc x Power adapter
1pc x 1.5m Power cord of Mainland China standard
1pc x 1.5 Power cord of UK standard (optional)
1pc x 1.5 Power cord of US standard (optional)
1pc x 1.5 Power cord of EU standard (optional)
1pc x Built-in battery (optional)
1pc x Brush
1pc x Product qualitty certificate
1pc x User manual
Related Product: 
Xhorse Condor Dolphin XP-005 Automatic Bluetooth Automotive Key Cutting Machine
Xhorse Dolphin II XP-005L – User Manual