---
Autel MS906 PRO (Upgrade of MS906BT) – Diagnostic Scanner & Service Tool 
The Autel MaxiSYS MS906pro tablet runs on Android 7 and features an 8-inch, 1920 x 1200 high-resolution touchscreen, Samsung Exynos Octa-core processor with 128 GB storage, with a long-lasting 11,600 mAh rechargeable battery, 5 MP front camera and 16 MP rear camera. The tablet communicates with the vehicle via the MaxiCVI V200 communication interface which supports the latest communication protocols including CANFD.
Promotion 3 Years Software PLUS
Get Over R4000 in FREE GIFTS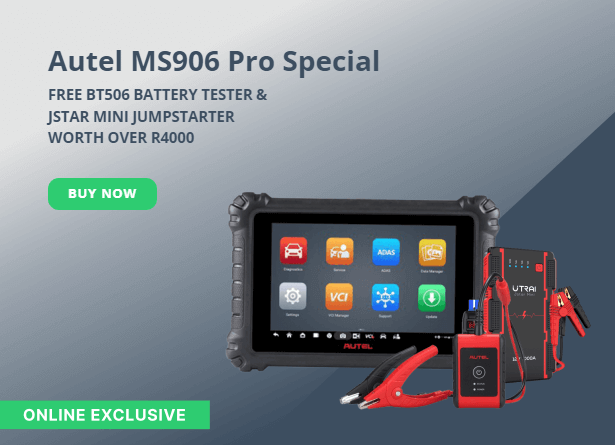 ---
Main functions
Read fault codes & provides a description
Clear fault codes & warning lights (e.g. airbag, ABS, engine light etc)
Service functions – interval light / oil reset light / EPB / injectors etc
Access to live data streams (oxygen sensor rich/lean indication, coolant temperature, mass air flow etc)
Actuation / Component testing(activate specific systems to test working conditions)
Coding (Injectors, spare keys, radios and even starters are now coming out 'coded'. This function is indispensable if you need to change those vehicle parts)
Overview:
Comprehensive diagnostics on 1996 and newer U.S., Asian and European vehicles
Includes VCI200 which is compatible with CANFD
AutoScan: Scan all available systems, including ADAS identification
Read/Erase Codes, View Freeze Frame, and Live Data
Perform Active Tests (bi-directional controls), Coding, and Adaptations
AutoVIN/Scan VIN for rapid vehicle identification
Performs all System scan with ADAS identification
Customizable Pre & Post scans
Extensive Service Menu: Quick access to 25 of the most common maintenance tasks
Camera-based VIN Recognition
ADAS Calibration-capable – Autel Calibration system (sold separately)
Additional battery testing with the MaxiBAS BT506 (sold separately)
two-year free software updates with a one-year limited warranty
What is the difference between the MS906BT (Older model) & the new MS906 Pro
Upgraded hardware (Faster tablet, better battery life & CANFD VCI)
All system Camera VIN identification & ADAS identification
Cloud Services (coming soon – Remote expert, cloud reporting etc)
Guided Functions (Support Volkswagen, Audi)
Additional Coding (BMW F and E chassis coding, Porsche Coding, Ford offline adaption)
---
Service Functions
Doing regular and routine maintenance on a modern car is impossible without a diagnostic system. Even the simplest procedures require the participation of an auto scanner. That's why Autel engineers have been working on them and making them as user-friendly as possible in the new MaxiSys MS906 PRO. Now you can easily do functions like:
Oil Reset: Reset the oil change calculator in the engine and automatic transmission
EPB: Replacement of brake pads on vehicles with an electric parking brake
TPMS
​​BMS: Battery registration and reset
Brake Bleed: ABS Brake Bleeding
DPF SRC Aftertreatment
IMMO Keys
Injector Coding
SAS: Adaptation of the sensor to the angular position of the steering wheel
Suspension
Throttle
WIN DR ROOF
Seats
Odometer
Language Change
Headlamp
CHG tire size
TEC learn
ABS SRS
Cylinder
VGT learn
Speed & PTO
Clutch
Trans adaptation
Airbag reset
A/F setting
Vehicle Coverage and Function?
This unit will cover nearly all manufactures in the South African market.
For detailed info, please see click here
Select the tool, such as "906 PRO", and click the search button.
---
2-Year Free Update (Promotion)
Globally Autel only provides 1 year of free updates in other countries…
The core function of a diagnostic machine is to test certain makes & models to help reveal problems
When you buy a diagnostic machine, one of the most important things to know is the coverage and functionality required
This will have a direct effect on the update cost (as this is directly related to the ongoing development of new coverage and improved functions)
That is why it is important to rather buy from a specialist diagnostic brand that will guarantee this (Autel has over 500 engineers globally continuously working on software).
It is also important to remember that updates are not just improvements for new models, but also updates based on improvements from data logs (the method customers give feedback when they have issues).
Depending on the brand (amount of engineers and effort towards updates), coverage and functionality.
For example: After 2 years, you could still use the machine for an additional 1 or 2 year period and then consider updating (or never update again – depends on your need for the latest models and functions)
There will be no penalty or catchup fees like other diagnostic brands
As an example -> Even after 5 years with no updates, when you pay for your update you get caught up to all the latest software.
---
Autel MS906 PRO Add-ons (sold separately):
Maxisys MS906 PRO is a diagnostic scanner with various interfaces that can access more Add-on like Inspection Camera, HDMI Projector, Phone, PC, USB Memory Stock, Headset, Oscilloscope, Extend SD Card etc.
MS906 PRO connects to an MV108 inspection camera and turns into a video inspection scope, allowing you to examine difficult-to-reach areas normally hidden from sight. It is capable of recording digital still images and videos, which offers you an economical solution to inspect machinery, facilities, and infrastructure in a safe and quick way.
ADAS Calibration-capable – Autel Calibration system
Additional battery testing with the MaxiBAS BT506
---
The main difference between the MS906 PRO and the DS808 (R16500exVAT)
MS906 PRO communicates with the car via Bluetooth communication (DS808 is hardline)
MS906 PRO gets software updates (specifically coding updates) earlier than DS808.
MS906 PRO has more service and coding functions
The software of the DS808 and MS906 Pro is very similar. So the DS808 is a great value for money option, but if you want all the bells and whistles, the Autel MS906BT is the way to go.
The main difference between the MS906 PRO and the MS909/MS919/Ultra
Intelligent Diagnostics (Technical Service Bulletins & Repair Assist)
Topology Module Mapping (CAN BUS Tree)
Online Coding / Reprogramming (updating ECU's, changing parameters or parts, J2534 pass-through flashing capabilities) (you must be within updates to access online coding)

Autel has its own online server for Mercedes Benz, BMW, VAG (VW, Audi, Seat, Skoda), Porsche, Nissan & Infiniti
For other OEM's you can use the J2534 interface with the PC/Laptop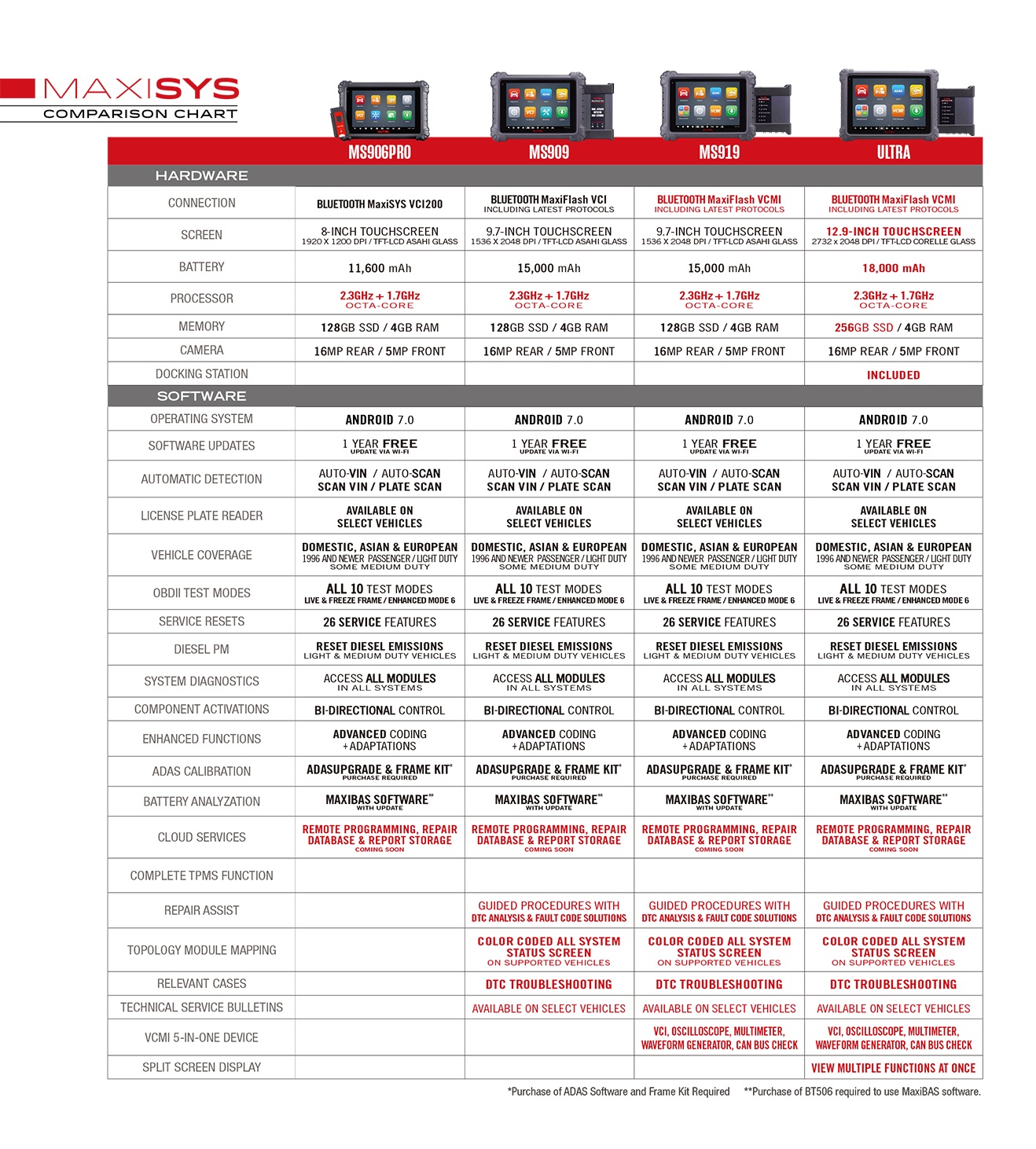 ---
Specification: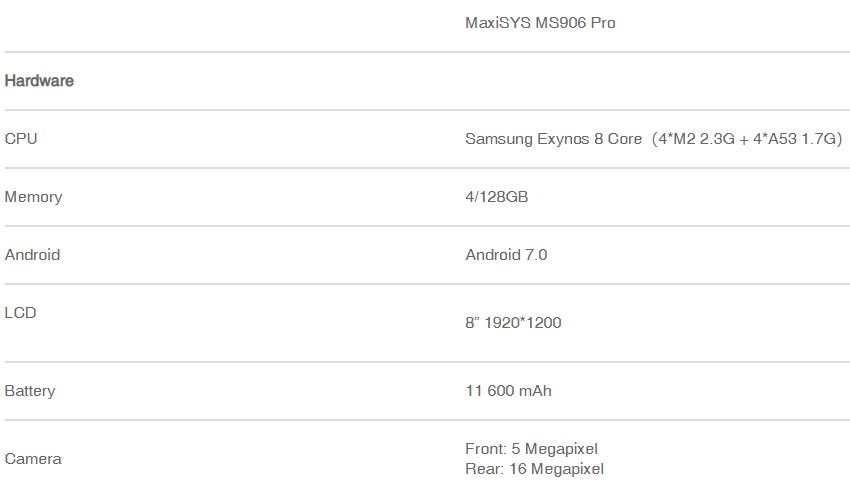 ---
 Package List:
– MS906 Pro tablet w/128GB
– MaxiVCI V200
– AC/DC External Power Adapter (12V)
– Type C USB cable
– Cigarette Lighter cable
– Cigarette Lighter Fuses
– USB to Ethernet Adapter
– Quick reference guide
– Soft Cloth
– Carrying Case (approx 15 x 12 x 5 inches)
– 2-Year Software Updates
– 1-Year Warranty