This product comes with a 7-day refund policy 
---
Why auto

supply

?
7-day Money-Back Guarantee //

Local Warranty & Support //

FREE updates

Official African Autel Dealer

Please be aware that Autel has IP blocks for grey imported units, they will not work locally!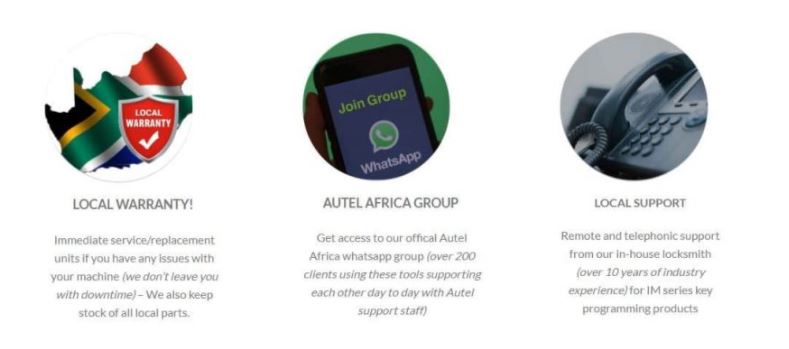 Local Support & Warranty
If you have any issues –

Immediate service/replacement units

(we don't leave you with downtime)

Dedicated support staff

to assist you with any technical issues (direct contact with Autel engineers)

"Autel Africa WhatsApp Group"

with all our support staff & over 200 other users throughout Africa.
---
Main Functions
Read fault codes & provides a description
Clear fault codes & warning lights (e.g. airbag, ABS, engine light, etc)
Service functions – interval light / oil reset light / EPB / injectors etc
Access to live data streams (oxygen sensor rich/lean indication, coolant temperature, mass air flow, etc)
---
Features
Support Read/Clear Codes and Live Data functions for Engine, Transmission, ABS, and Airbag (SRS) systems
Read and clear trouble codes, control and test BMS/Oil Reset/ SRS/EPB/DPF systems
Support oil service reset
Support battery registration and reset
Diesel particulate service including forced regeneration
Reset steering angle sensor (SAS) functionality
Relearn parking brake pad after replacement
Reset service mileage and service intervals
Turn off ECU brake warning light
Perform O2 monitor, on-board monitor, I/M readiness, and component testing
Print diagnostic reports via PC connection
Global OBD II coverage for U.S. domestic, Asian and European makes and models
All OBD II protocols, all 10 test modes, and enhanced OBD II mode 6 support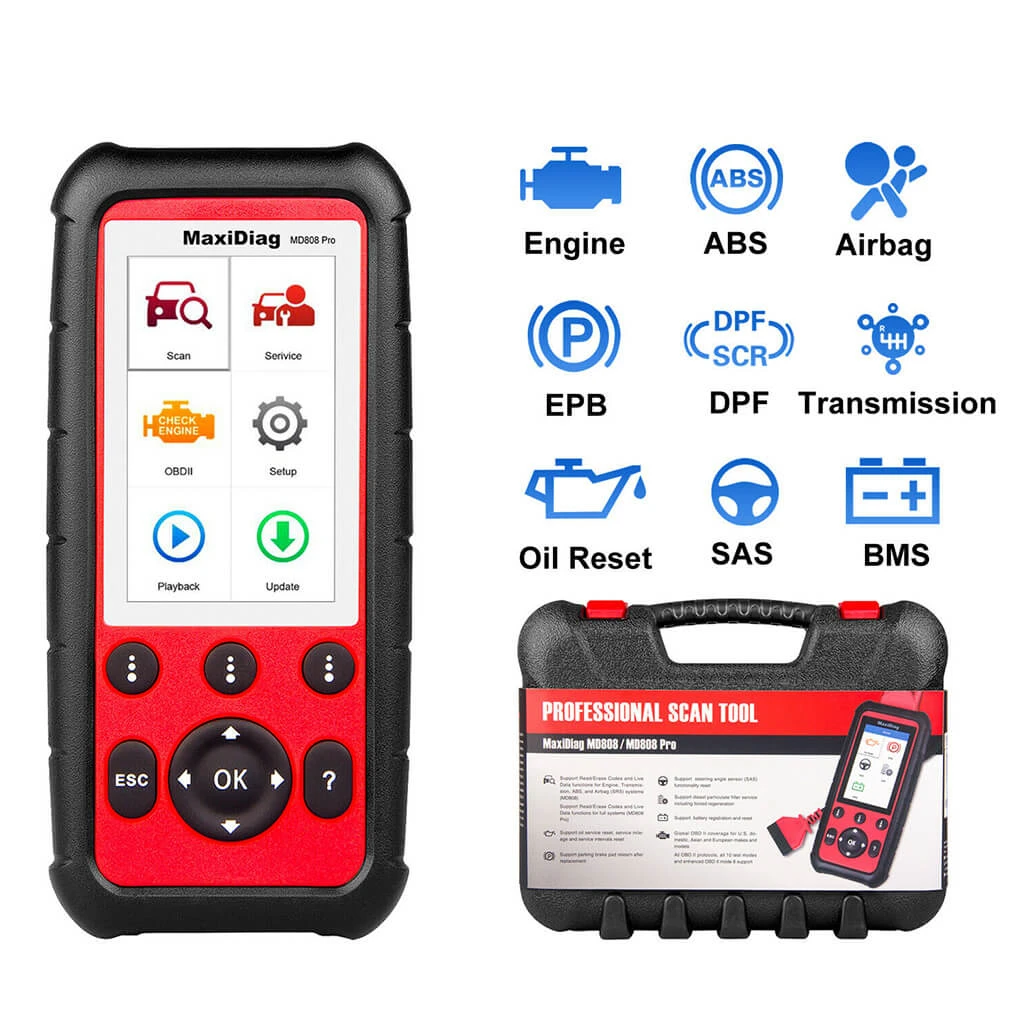 Vehicle Coverage and Function?
This unit will cover nearly all manufactures in the South African market.
For detailed info, please see click here
Select the tool, such as the MD808 Pro, and click the search button.
Updates
As an exclusive dealer for Autel in South Africa, they have given us a great software package just for SA.
Normally, Autel provides 1 year free updates to all their dealers in other countries, but for us on this unit, all our customers will get 2 years free updates!
The MD808 has similar diagnostic reading and clearing function to the MX808 and DS808
The MD808 has limited service functions compared to the MX808 and DS808
The MD808 is not tablet-based, so you need to remove the memory card and use it with a computer. With the MX808 and DS808, you simply connect to wifi and update.
The MD808 does not have shop Manager, the MX808 and DS808 do. Shop manager lets you see a full history of all your scans with an easy option to email or print for the client.
The difference between the MX808 and the DS808 is that the MX808 does not have coding / special functions.
So if all you want is to read and clear fault codes with basic service functions, this is your unit. If you want to have more service functions, with an easier-to-use unit that can provide reports for your clients, the Autel MX808 might be better. If you need special functions & coding, the Autel DS808 will be better.
---