This product comes with a 7-day refund policy 
---
Why auto

supply

?
7-day Money-Back Guarantee //

Local Warranty & Support //

FREE updates

Official African Autel Dealer

Please be aware that Autel has IP blocks for grey imported units, they will not work locally!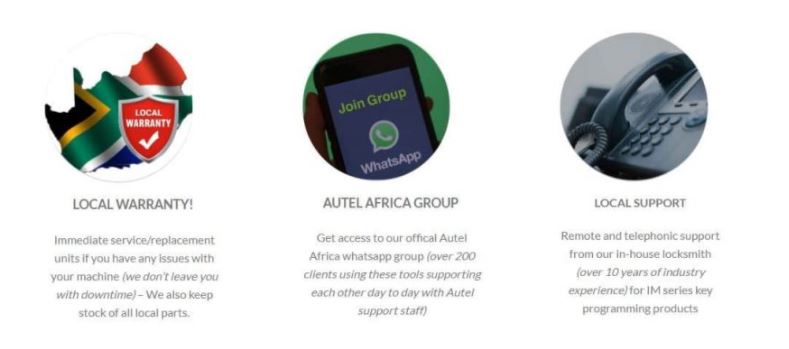 2-Year Free Updates (Promotion)
Globally Autel only provides 1 year of free updates in other countries…
Why is it important for most of our customers to keep their software updated?
The core function of a diagnostic machine is to test certain makes & models to help reveal problems
When you buy a diagnostic machine, one of the most important things to know is the coverage and functionality required
This will have a direct effect on the update cost (as this is directly related to the ongoing development of new coverage and improved functions)
That is why it is important to rather buy from a specialist diagnostic brand that will guarantee this (Autel has over 500 engineers globally continuously working on software).
It is also important to remember that updates are not just improvements for new models, but also updates based on improvements from data logs (the method customers give feedback when they have issues).
The 2-year free software update promotion
Globally Autel provides 1 year of free updates to all their dealers in other countries…
autosupply has negotiated to make this 2 years for FREE (only to clients located in Africa)
For example: After 2 years, you could still use the machine for an additional 1 or 2 year period and then consider updating (or never update again – depends on your need for the latest models and functions)
There will be no penalty or catchup fees like other diagnostic brands
As an example -> Even after 5 years with no updates, when you pay for your update you get caught up to all the latest software.
---
Main Features
Read fault codes & provides a description
Clear fault codes & warning lights (e.g. airbag, ABS, engine light etc)
Service functions – interval light / oil reset light / EPB / injectors etc
Access to live data streams (oxygen sensor rich/lean indication, coolant temperature, mass air flow etc)
Actuation / Component testing(activate specific systems to test working condition)
Offline Coding (Injectors, spare keys, radios and even starters are now coming out 'coded'. This function is indispensable if you need to change those vehicle parts)

Please note: this coding does not include functions for BMW, VW, Hyundai, Nissan or Toyota (You will need to get the Autel MS906BT for these coding functions)
Vehicle Coverage and Function?
This unit will cover nearly all manufactures in the South African market.
For detailed info, please see click here
Select the tool, such as DS808, and click the search button.
---
Features
Extensive vehicle coverage for more than 80 US, Asian and European vehicle makes
Exceptional OE-Level system coverage for all electronic systems
Complete capabilities for codes, live data, active test, ECU information, adaptation, matching, etc.
Smart AutoVIN technology for identifying vehicles easily
Automatic system and software updates with real-time push message notifications via Wi-Fi
Instant remote control tech support anytime, anywhere
Cloud-based MaxiFix online community provides a vast database of diagnostic and repair tips and proven filed fixes
Interactive Data Logging sessions enable direct contact with Autel Technical Support for first-hand troubleshooting of diagnostic bugs and errors
One-stop multitasking designed for ideal management of workshop operations to keep all data files, customer info, and vehicle records well organized
Convenient data management system for managing internal program applications and reviewing data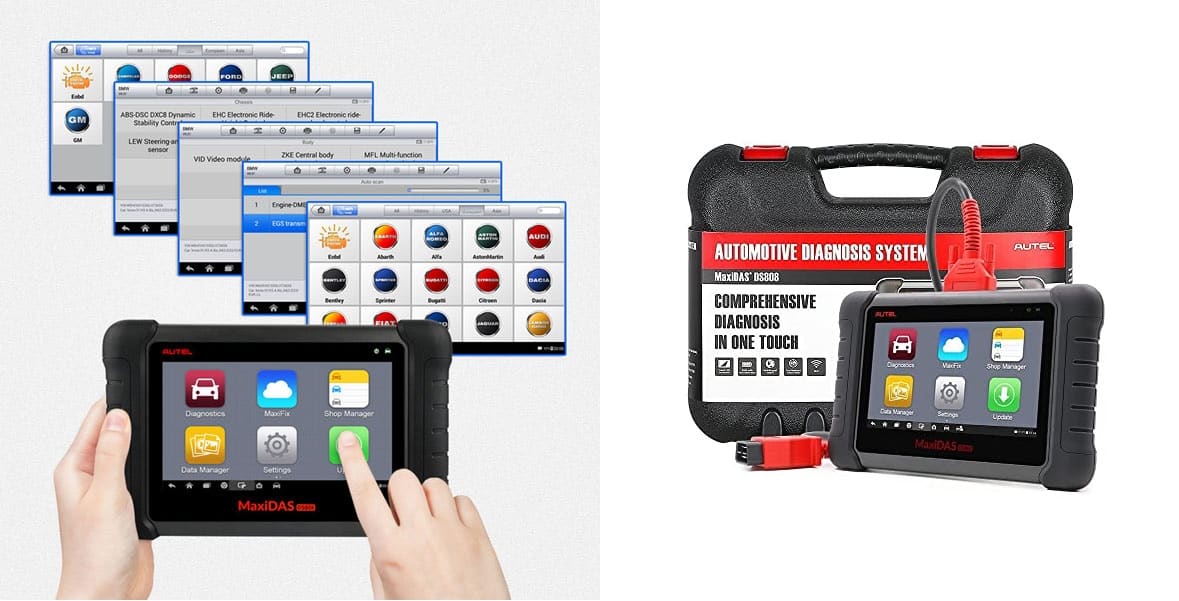 Service Functions
The DS808 provides the following functions for most modern vehicles:
Oil Reset Service
EPB Service (Electronic Parking Brake)
BMS (Battery Management System)
SAS Service (Steering Angle Sensor)
DPF Service (Diesel Particulate Filter)
TPMS Service (Tire Pressure Monitor System)
IMMO Service (Immobilizer)
Brake Bleed
Injector
Throttle
WIN DR ROOF
Seats
---
The DS808 has similar diagnostic software to the MX808 Pro, but the DS808 has coding functions (MX808, MD808 have no coding, i.e. When replacing certain parts, you need to code them into the system)
The main difference between the DS808 and the MS906BT:
MS906BT communicates with the car via Bluetooth communication (DS808 is hardline)
MS906BT comes with a full kit of OBDI cables for the older models
MS906BT has more coding functions then the DS808.
The software of the DS808 and MS906BT is very similar. So the DS808 is a great value for money option, but if you want all the bells and whistles, check out the Autel MS906BT.
Customer Reviews
02/28/2021
Porcius F.

ZA
unknown
excellent service and a brilliant tool.