Upgrade your IM508 to the same key programming functionality as the Autel IM608
Main Features 
DC Port – provides 12V DC power supply.
USB Port – provides data communication and 5V DC power supply.
DB 26-Pin Port – connects with the Mercedes Benz infrared cable, vehicle key cable, ECU cable, MCU cable, MC9S12 cable.
Cross Signal Pins – holds the MCU board, MCU spare cable or DIY signal interface.
IC Card Induction Area
Vehicle Key Slot – holds the vehicle key.
Transponder Slot – holds the transponder.
Remote Control Transponder Induction Area Figure 2-5 XP400 Views 11
Mercedes Infrared Key Slot – holds the Mercedes infrared key.
Status LED – indicates the current operating status.
Locker – locks the EEPROM component transponder slot to ensure proper functioning.
EEPROM Component Transponder Slot – holds the EEPROM plug-in transponder or EEPROM socket.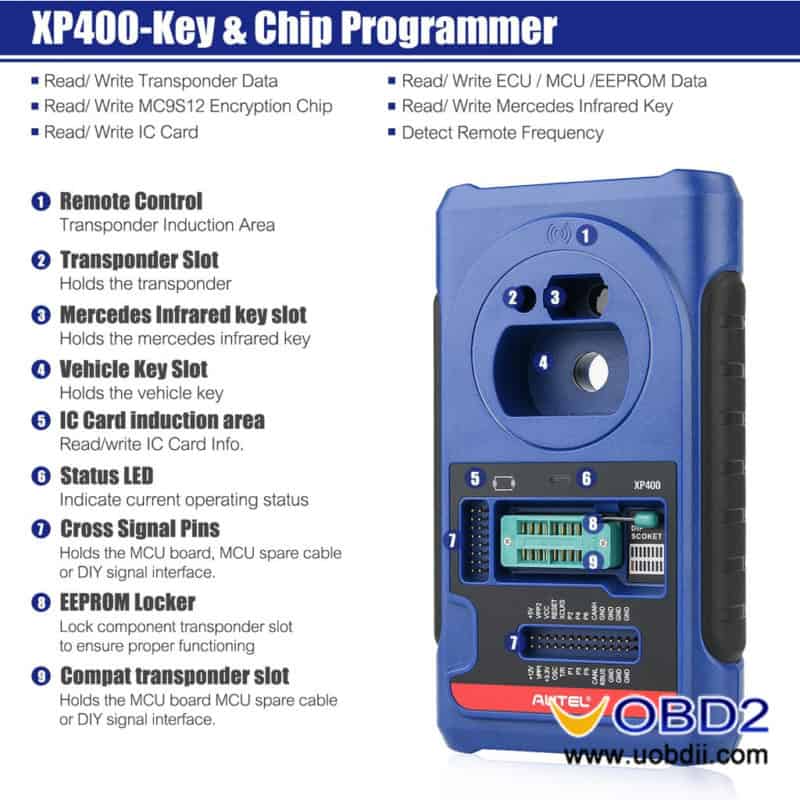 XP400 KEY & CHIP PROGRAMMER Function List:
Support PC
MCU / EEPROM Chips Read / Write
ECU Read / Write
MC9S12 Encryption Chip Read / Write
Key Read / Write
Mercedes Infrared Key Read / Write
Remote Frequency Detect
IC Card Read/Write
Autel XP400 Packing List:
APC 101 (USB Cable)
APB101 + APD 101 (EEPROM Adaptor + EEPROM Adaptor Shell)
APB102 (MB IR Cable)
APB 103 (MCU_PLCC52)
APB 04 (MCU_FQFP64)
APB105 (MCU_FQFP80)
APB106 (MCU_QFP112)
APB 107 (MCU_FQFP144)
APB108 (MCU_FQFP176)
APB109 (MCU_QFP32)
APB110 (MCU_QFP48)
APB111 (MCU_S028)
APA002 (EEPROM Socket)
APA 101 (Signal CABle)
APA 103 (EEPROM Clamp)
APA 104 (ECU Clamp)
APA 105 (MCU Clamp)
APA 106 (MC9S2 Clamp)
APA 107 (Connect Cable)
Carrying Case
XP400 Tool