Advanced Design & Integrated Casting.
Condor Mini Plus (KM03 6.1.3 above, KM05 3.1.3 above) now can be controlled via Xhorse APP (July 2020)
---
Features 
1. Space between cover and key is bigger than XC-MINI.
    For XC-MINI, many keys with casings like VW flip key will not allow you to close the cover, while CONDOR XC-MINI Plus won't have this problem.
2. Screen is designed with adjustable angle. Much more convenient to operate and see what's on the screen.
3. Mounting support – to make it easier when mounting the machine on vehicles when you carry out, it won't move around.
4. With better PCB and motors, high quality to work more stable and accurate
5. Much easier to clean up, dust after cutting the key won't get in the machine, which make XC-MINI PLUS with extended service life.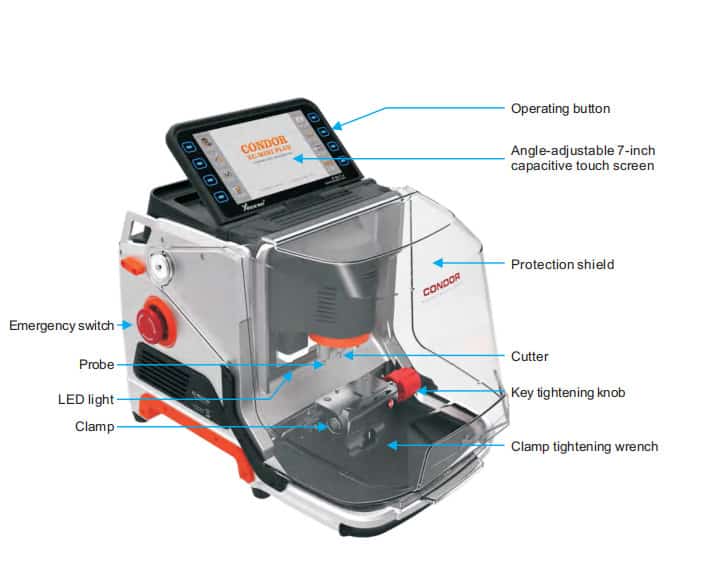 Condor XC-Mini automatic key cutting machine standerdy includes two clamps M1 and M2 support sided, track, dimple and tibble keys, some dimple/tibble keys need M3 optional clamps used for Ford FO21 & CItroen SX9 keys.

Built-in actuate database,detailed parameters, schematic sample depth key tool avaliable for users, according to the blank key data, edit key shape, space flat, depth for making a new key data. It is convient to synchronize the new key data to machine.

Condor Mini Plus contains three powerful functions for all keys lost key databse, cut by bitting & find bitting, esstional tool for locksmith all key lost job eaiser to be completed.
Aluminum main body, partial made by 304 stainless steel matertals. net weight 18KG is lightweight machine with stable structure. Machine used 3-Axis precison Ball screw transmisson with higher accuracy & stability than T screw transmisson
Please note:

Instacode

is no longer included with the Condor Mini Plus
---
Specifications 
Working Temperature 0-50

Humidity: 10-90%

Working Voltage: 90-264V/AC

Input Frequency: 47-63Hz

Package Dimension: 450 x450x350mm

Machine Dimension: 265 x362x301mm

Net Weight: 18kg

Gross Weight: 22.9kg

Power: 200W

USB port: 2.0

LED Display:

1024×600

Motor Rotation Speed: 9000rpm
---
Key cutting machine
Condor DOLPHIN XP-005
Condor XC-MINI PLUS 
Appearance
Screen
Small screen showing battery and Bluetooth status
LED Display 1024×600 Adjustable Touch-Screen
Spindle
Mechanical shaft +60W DC motor (with a foreign model)"
"Electric spindle brushless 300W, built-in angular contact bearing
Electric spindle brushless 300, built-in angular contact bearing
Transmission mechanism
T-shaped screw + anti-backlash nut
Ball screw
guide
Roller guide
Cross-track
Shell
Base aluminum alloy die-casting, the upper body is made of plastic
shell and the body is made of integrated aluminum alloy die-casting
Plastic outer casing body is formed by body alloying die casting
Operating system
Mobile phone APP
Stand-alone/Mobile phone APP
Battery
Optimized lithium battery of well-known brand, stable and reliable, support cutting under no power conditions
(optional) Power supply adapter with Battery
Built-in Database
No
Yes
All Keys Lost
Yes, must enable network connection
Yes, offline operation
Fixture
Standard fixture
Two sets of standard fixtures
Manipulation
No touch screen, no built-in database
Quick start, with touch screen, built-in database
Offline operation
not support
stand by
Dedicated app
Support dedicated mobile phone APP
Support dedicated mobile APP
protecting mask
Simple protective cover
Comprehensive protection
VVD binding
not support
stand by
Cutting speed
1X SPEED
2X SPEED
weight
19.5KG
22.9KG
Warranty
1 year
3 years
Update
Update online via Xhorse Update Kit
Update online via Xhorse Update Kit
Accessories 
1pc x CONDOR XC-MINI Plus Machine Body

1pc x 1.5mm Cutter

1pc x 2.5mm Cutter

2pc x 1.0mm Probe

1pc x Power cord (1.5m) (Chinese Standard)

1pc x USB Cable(1.5m)

1pc x Brush

1pc x M1 Clamp for Single/Double sided keys

1pc x M2 Clamp for Channel-track keys

1pc x Quick Start Guide

1pc x User Manual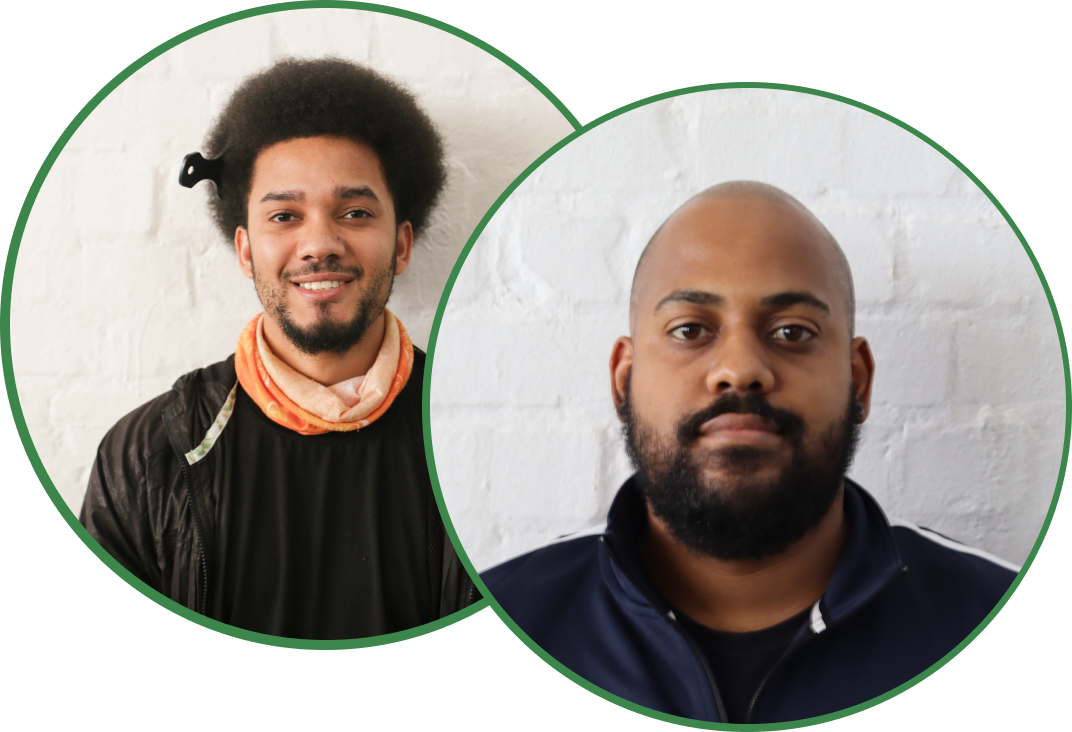 Let an Expert Help Me...?