X-431 PAD V is Launch's latest top-end car comprehensive diagnostic scan tool based on the Android 7.1 system. It inherits Launch's many advantages in car fault diagnostic technologies, including large car model coverage, powerful functions, a large number of special functions, and accurate test data.
With its new advanced Smartbox 3.0, X-431 PAD V could diagnose the passenger and heavy-duty vehicles (software and adaptors are optional) with one single dongle. And to make it better, it also has the built-in J2534 adaptor to make the X-431 PAD V one of the most powerful scan tools in the market. X-431 PAD V also supports LAUNCH's extension module applications for oscilloscopes, sensors, endoscopes, multimeters, and battery detection, etc.
Its operation is easier and more intuitive, it includes a package of "Full" vehicle brands (more than 80 brands), with the most important European, Asian and American vehicle manufacturers, together with the full potential of LAUNCH diagnostic software. Able to diagnose cars, commercial vehicles, and also industrial vehicles (12 and 24 V).
The PAD V is compatible with the J2534 and ISO22900 (Pass-Thru) communication protocols, in this way you can connect to the manufacturer's website and perform programming among many other functions.
---
---
Why autosupply?
Official African Launch Dealer (The machines are different to the Launch Chinese models with more free updates – 2 Years instead of 1 year)
7-day Money-Back Guarantee // Local Warranty & Support // FREE updates
If you have any issues – Immediate service/replacement units (we don't leave you with downtime)
Dedicated support staff to assist you with any technical issues (direct contact with Launch engineers)
"Launch Africa WhatsApp Group" with all our support staff & over Launch product users.
---
Main Features
Read fault codes & provide a description
Clear fault codes & warning lights (e.g. airbag, ABS, engine light, etc)
Service functions – interval light / oil reset light / EPB / injectors etc
Access to live data streams (oxygen sensor rich/lean indication, coolant temperature, mass air flow, etc)
Actuation / Component testing(activate specific systems to test working conditions)
Offline Coding (Injectors, spare keys, radios, and even starters are now coming out 'coded'. This function is indispensable if you need to change those vehicle parts)
Online Coding / Reprogramming (updating ECU's, changing parameters or parts, J2534 pass-through flashing capabilities) (you must be within updates to access online coding)

Launch has its own online server for Mercedes Benz, BMW, VAG (VW, Audi, Seat, Skoda), Porsche, Nissan & Infiniti
For other OEM's you can use the J2534 interface with the PC/Laptop

---
Features: 
Android 7.1 customized system, Qualcomm 8-core processor, 10.1-inch capacitive touch screen, support QC3.0 fast charging.
2.4GHz & 5GHz Dual-Frequency Wi-Fi, the transmission rate is faster than the previous generation.
Camera: front, 8 Megapixels; rear, 13 Megapixels, Display I/M Readiness Status
Fifth-generation Wi-Fi technology, theoretically, the transmission rate is 4 times faster than the previous generation
Wide vehicle model coverage, powerful diagnostic functions (intelligent diagnosis, remote diagnosis, read DTC, clear DTC, read data stream, actuation test), accurate diagnostic data, and abundant special functions.
Brand new industrial design, with soft rubber sheath on the four corners of the product, to effectively prevent collision; damping shaft, free adjustment of nearly 180 degrees; support three modes of hanging, support and normal.
Highlights:
With 2 Years Free Updates Online
This is Global Version Without IP Limitation
Realtime Remote Diagnosis Function via WiFi
1920×1200 High-Resolution, 9360mAh Battery, QC3.0 Fast-Charge
Support Commercial Vehicle and Passenger Car Diagnose, Support J2534, CAN FD, DoIP.
10.1″ Full-Fitting, Sunlight Readable Screen (Gorilla Glass) Screen (Multi-Point Touch Screen)
Multi-Language Supported: English, French, Spanish, German, Russian, Korean, Japanese, Portuguese, Italian, Polish, Dutch, Swedish, Chinese
8 Core 2GHz CPU; 4G RAM, 64G Memory; 10.1 Inch Full-Fitting, Sunlight Readable Screen (Gorilla Glass) and IP65 Protection.
Special Functions Supported: Injector, Reset Brake Bleed, Reset TPMS, Electronic Throttle Relearn, Reset DPF, Reset SAS, Reset Oil, Reset Brake, Reset BMS
---
Why You Need Launch Pad V?

X431 PAD V Support PEV (pure electric vehicle), other launch x431 device supports Hybrid cars, but do not support PEV.
X431 PAD V is with 10.1-inch IPD Touch Screen, it can work under the sun (you can see the screen clear under the sun), Launch x431 other products can not work under the sun.
Faster Speed, Best Hardware, supports works under the sun
X431 PAD V is with 5GHz Dual Frequency wifi, with 8-core Processor 2.0GHz CPU, so x431 pad v is more fast speed to operate (update and programming). 4GB Memory with 64GB Storage (can up to 128GB)
Launch X431 PAD v is with Smartbox V3.0 diagnose connector, it supports All diagnostic protocols: J2534 protocol + D-PDU protocol + RP1210 protocol + CANFD+DOIP protocol
What is more, LAUNCH X431 PAD V is the only one supporting DOIP/ CANFD protocol in the market until now, and it also supports Security Gateway. DOIP/ CANFD protocol is the new protocol, some new cars are with them, like for Land Rover, for GM, For Ford, it will be used to many other new cars. Security Gateway is used for Chrysler, for Nissan, etc.
Online Programming (more safety during programming, even though you failed during programming, x431 pad v can allow you to program again, will not break the ECU)
X431 PAD V supports programming and coding, which is to write the relevant control information of the software into the automotive computer's programmable EPROM or FLASH by making use of the electronic communication transmission technology.
X431 PAD V supports intelligent recognition of programming files, convenient and quick operation. Support for Mercedes-Benz, for Benz New Energy, for BMW, for BMW New Energy, for GM, General New Energy, for Ford, Ford New Energy, for Volkswagen, for Volkswagen New Energy, for Audi, for Audi New Energy, for Land Rover, for Nissan, Skoda, for Seat, for Mazda and other models Programming function.
---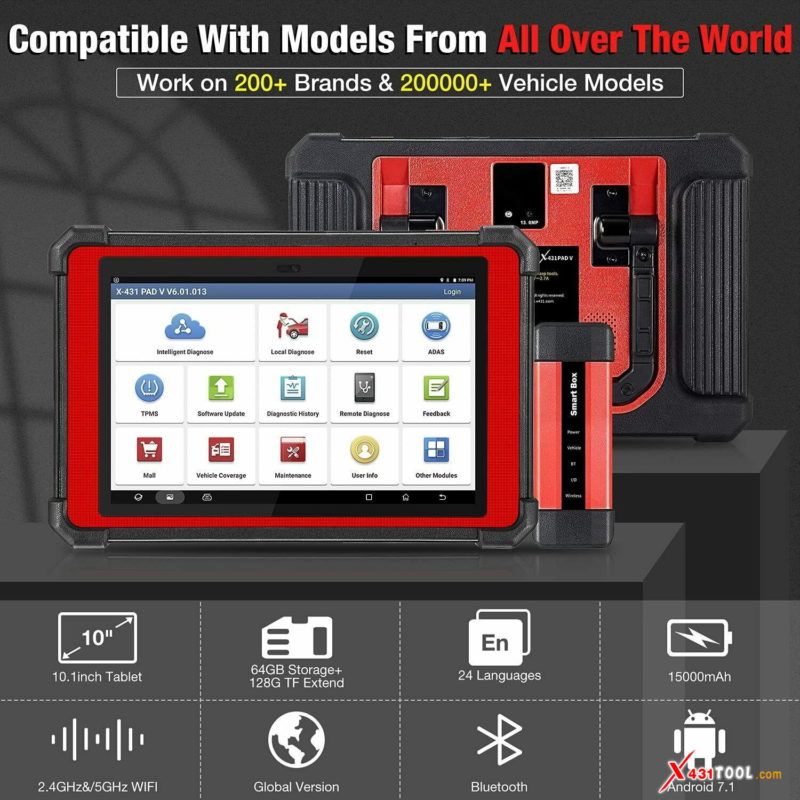 ---
What are the Advantages of X-431 Pad V? 
PAD V is capable of diagnosing passenger cars, commercial vehicles, and industrial vehicles (12 and 24 V) and is compatible with DoIP communication protocols, new CAN networks FD and J2534 and ISO22900 (Pass-Thru), with the latter you can connect to the manufacturer's website and make programming among many other functions. It also includes the SW for vehicles with Advanced Driving Assistance System (ADAS) and is compatible with the static calibration accessory X-431 ADAS Pro.
Its main difference with PRO 1 and 3 models is that it allows you to attach different optional accessories such as a 4-channel oscilloscope, battery tester, endoscope, and sensor simulator. Its Internet connectivity is total to offer an infinite number of services, such as the sending of technical bulletins, telediagnosis, online technical information (Data LAUNCH), automatic updates, and the possibility of communicating with other LAUNCH equipment for the help between workshops (cooperation remote). Compatible with golo telematic devices.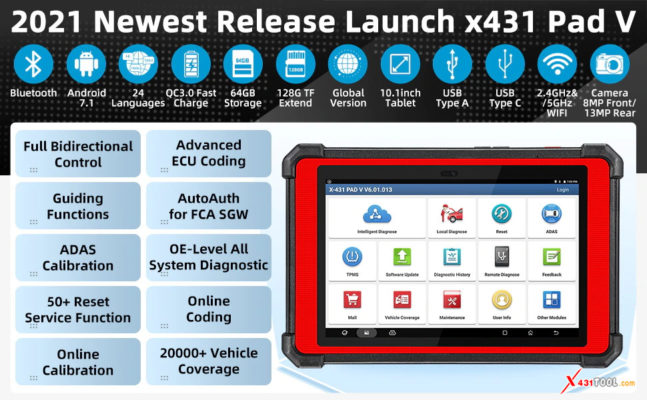 ---
Vehicles Supported: 
1. Passenger Vehicles Supported:
Australian: AUST Holden, AUST Ford
Asian: Toyota/Lexus, Honda/Acura, Mazda, Subaru, Nissan/Infiniti, Mitsubishi, Hyundai, Isuzu, Daihatsu, KIA, Daewoo, Suzuki, Proton, Tata, Mahindra, Ssangyong, Perodua, Maruti
European: Audi, Mercedes/ Maybach, BMW/ MINI/ Rolls Royce, VW/ Bentley/ Bugatti, Opel/ Vauxhall, Peugeot, Citroen, Volvo, Sprinter, Renault/ Dacia, Fiat/ Romeo/Abarth/ Lancia, Rover, Landrover, Saab, Seat, Skoda, Smart, Maserati, Ferrari, Aston Martin, Porsche, Jaguar
USA: USA Ford/ Lincoln, GM/ Buick/ Cadillac/ Chevrolet, Chrysler/ Dodge/ Jeep
Chinese: Changcheng (Great Wall), Geely, Qirui_TY (Cherry), Futian, Changan, Changhe, Haifei ….etc.
Others: EOBD, Demo
---
2. 12V Heavy-Duty Vehicles Supported:
Software Coverage:
Nissan (Diesel), Mitsubishi (Diesel), USA Ford Diesel, Kenworth Astra, Benz Heavy Duty, Bosch Diesel, China Heavy Duty, Cummins Heavy Duty, DAF, Delphi Diesel, Denso Diesel, FAW Liberation, Foton Auman, FUSO, Hino, Hyundai Heavy Duty, Isuzu Heavy Duty, Iveco Heavy Duty, JAC Heavy Duty, Mack, MAN, OBD Heavy Duty, Scania, Shangchai Diesel, Volvo Heavy Duty, WP Diesel, Airbus, Allison Transmission Box, Ashok Rejlander, Bendix ABS, Caterpillar Heavy Duty, Chai Heavy Vehicle, Chaoyang Diesel, Construction Machinery, CREDO Heavy Vehicle, Detroit Engine, Dongfeng Commercial Vehicle, Dongfeng Yufeng, Doosan Engine, Freightliner Heavy Duty Truck, Full Diesel Diagnosis Software, Haldex ABS Heavy Duty, HD_ABS System, HD_GoldenDragon, HD_International
HD_Kinglong, HD_Maxxforce, HD_Tata, HD_Western_Star, Heavy Truck Presentation Software, IRISBUS HD, IRIZAR HD, NEOPLAN HD, Peter HD, Renault HD, SETRA HD, Stannic Bavin, Sterling HD, Sunlong Bus, Sunwin Bus, UD Trucks 2F Nissan Diesel, WABCO ABS, Yang Chai Engine
Powerful Special Functions: Component Replacement, Cylinder Compression Test, Injector Cut Out Test, DPF Regeneration, Communicates with ABS & Transmissions from Bendix, Wabco and Allison, Tech to Tech remote communication function.
Please note this is an extra update activation fee
---
Functions:

1. Full System Diagnosis:
Actuation Test
This option is used to access vehicle-specific subsystem and component tests. Available tests vary by the vehicle manufacturer, year, and model. During the actuation test, the display tablet outputs commands to the ECU in order to drive the actuators and then determines the integrity of the system or parts by reading the ECU data, or by monitoring the operation of the actuators, such as switching an injector between two operating states.
ECU Coding
X431 PRO3S+ advanced diagnostic tool comes with advanced ECU coding & online ECU coding capability (on the majority of Volkswagen) to make full use of the hidden features like auto park, tilting rear-view mirrors, unfolding mirrors, customizing daytime running light, disabling auto engine start-stop and etc depending on the electronic features already built-in.
Because every automobile actuator has a record code in ECU, which is the basis for automobile computer to mobilize their work.
LAUNCH X431 PAD V is equipped with an advanced ECU coding function for addressing the following issues:
After you change the bad actuators or certain parts, you need to use this function to make a new code and recognize the new actuators.
By changing the code with the ECU coding, it's easy to improve vehicle performance or stimulate high-end functions for the car.
ECU coding enables multiple car systems to recognize each other and then the actuators can start to work.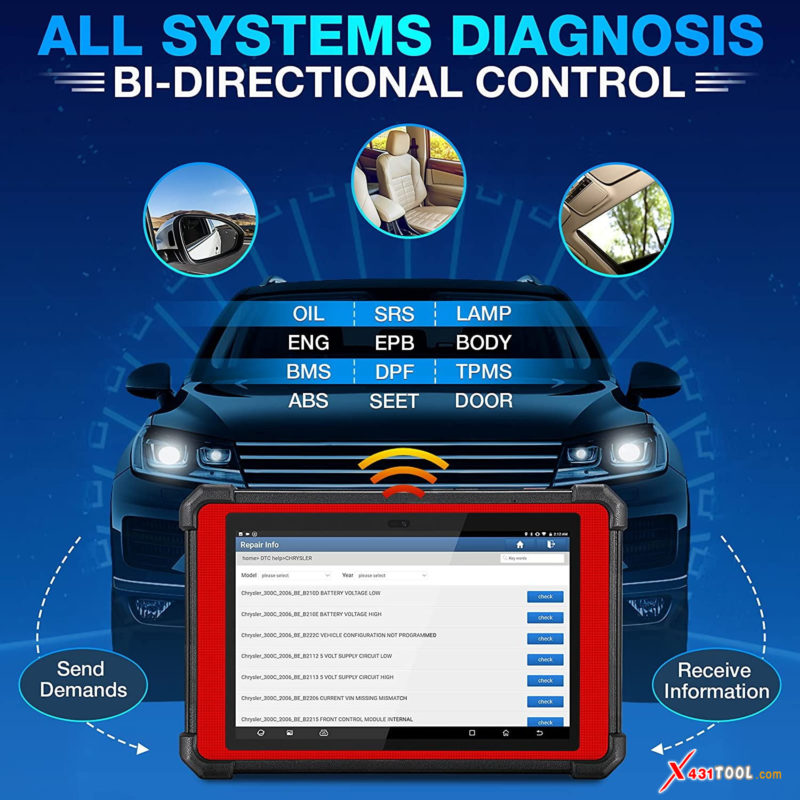 2. Special Reset Functions
(NOTE: You can find 15 kinds of commonly used reset functions in the reset menu, and other special functions in the car brand diagnostic software menu)
Oil Lamp, Oil Reset Service allows you to perform reset for a new calculation of Engine Oil Life system once changed the oil.
EPB, Electronic Parking Brake Reset is important in the maintenance of electronic braking system's safety and efficiency.
BMS, BAT, Battery Maintenance, Battery Register:
allows the scan tool to evaluate the battery charge state, monitor the close-circuit current, register the battery replacement, and activate the rest state of the vehicle.
DPF, Diesel Particulate Filter regeneration: especially works for Diesel Particulate Filter system with DPF regeneration, DPF component replacement teach-in and DPF teach-in after replacing the engine control unit.
SAS, Steering Angle Calibration helps clear the fault steering angle sensor memories and plays an important role in the steering angle sensor calibration.
TMPS, Tire Pressure Monitor System Reset makes sense in displaying sensor IDs from the vehicle's ECU, inputting TPMS sensor replacement IDs and testing sensors.
ABS Bleeding: ABS brake bleeding to get a firm brake pad after air exhaustion.
Throttle, Electronic Throttle Position Reset/ learn: The throttle body is a tube containing a pivoting flat valve (butterfly) that is used to control the amount ofair entering an engine. In an electronically fuel-injected car, a throttle position sensor and airflow sensor communicate with the computer, which supplies the corresponding amount of fuel needed at the injectors. It must need re-learning throttle sensor position after clearing or repair
Gear Learning: Leaking injectors and some dead injectors can be missed even when an injector is disabled. Other problems with the ignition system and mechanical components also may not show an rpm loss when an injector is turned off
AFS Reset (Adaptive Front-lighting System): It detects the light of the environment, then decides whether to automatically turn on the headlights or not. It can also adjust the headlights in time by monitoring the driving speed and body posture of the vehicle.
SUS Reset: When the body height sensor and control module in the air suspension system are replaced or the level of the car is wrong, this function needs to be performed to level the body height sensor.
EGR Adaption: Reduce nitrogen oxides (NOx) in the exhaust gas and improve fuel economy at partial load.
more functions waiting for you to discover…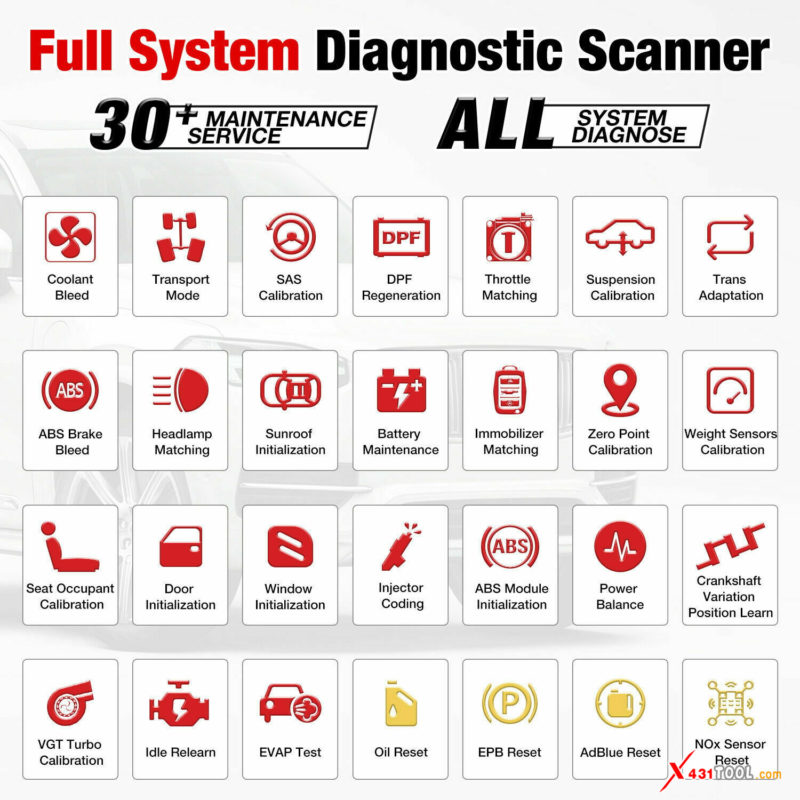 3. Other Functions:
Health Report (Quick Test) It enables you to quickly access all the electronic control units of the vehicle and generate a detailed report about vehicle health. Note: This function varies from vehicle to vehicle.
Remote Diagnose helps repair shops or technicians launch instant messaging and remote diagnosis, making the repair job gets fixed faster. Could access remotely and quickly via mobile phone, tablet and computer, with low bandwidth and system resource occupancy. It also can "Add friend", can add the one who also uses launch product, then you can communicate with them in X431 Pro3s, if you have a problem to car repair, you can talk with them online, they can help you.
Diagnostic feedback for any problem found during the diagnosis, submit the vehicle issue to us for analysis and troubleshooting.
Diagnostic History This function provides quick access to the tested vehicles and users can choose to view the test report or resume from the last operation, without the necessity of starting from scratch.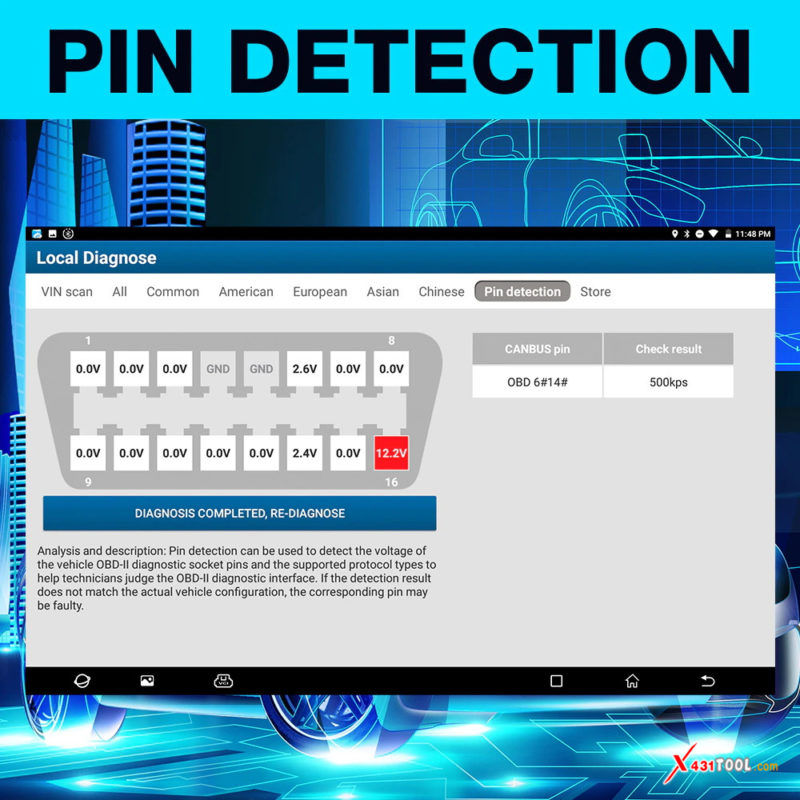 ---
Extension Optional Modules:

Oscilloscope and ignition analyzer
Endoscope
Battery tester
Scope box
Sensor box: Sensor tester and simulator + Multimeter.
Static calibration accessory X-431 ADAS Pro.
DATA LAUNCH technical information.
Optional accessories: Furniture for stabilizer and diagnosis MB 90 and MB 80.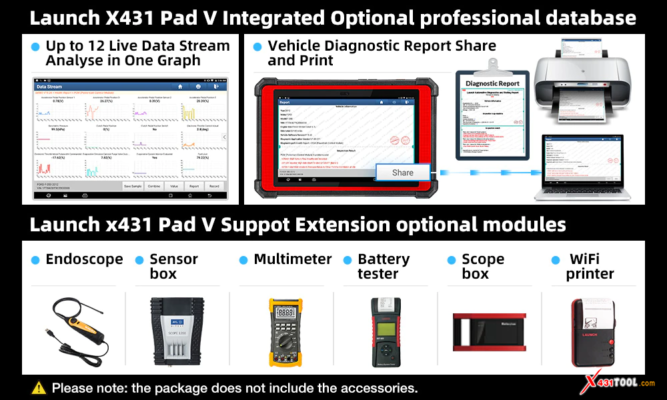 ---
Product Display: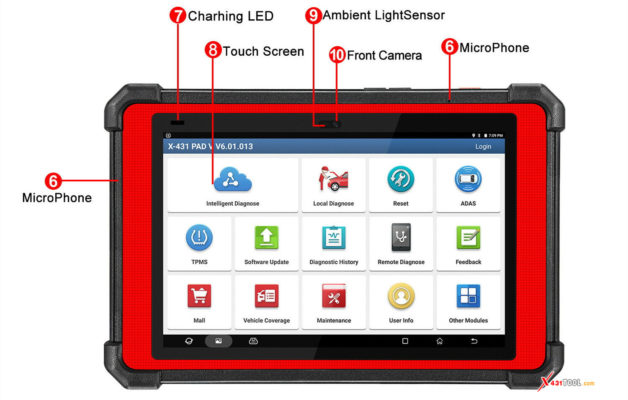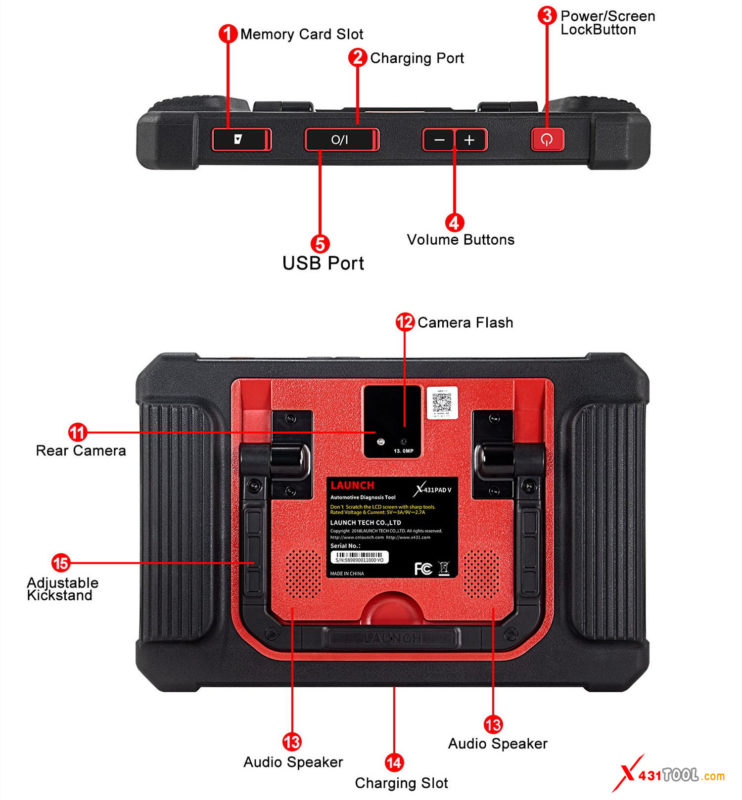 ---
X-431 PAD V Parameters:

| | |
| --- | --- |
| Processor | 8 core Cortex-A53 2.0GHz |
| Cache | 4GB |
| Hard Disk |  64GB, 128G extended |
| System | Android 7.1 |
| Screen | 10.1-inch full-fitting, sunlight-readable screen (Gorilla Glass) |
| Resolution | 1920*1200 |
| Wi-Fi | Support 2.4GHz&5GHz dual frequency |
| Camera | Rear13 Megapixels, front 8 Megapixels |
| Diagnostic Mode | Wi-Fi |
| Work Temperature | -10 ~ 50℃ |
SmartBox 3.0 Parameters:

Main parameters
Main structure
Dual processor: Cortex – A7 + Cortex – M7
System
Linux
Memory
256M
Storage
8GB
Power supply
DC 9 ~36V
External interface
USB
Type B USB 2.0
Bluetooth
BLE 4.0 + EDR
WIFI
Support 2.4G/5GHZ dual-band
Indicator lamp
5 multifunction indicator lamps
Vehicle connection
J1962  16PIN
---
Package List:

1 x X-431 PAD V main unit
1 x X-431 PAD V charging dock
1 x Smartbox 3.0 diagnostic connector
1 x Micro USB cable
1 x Cigarette lighter cable
1 x 5V DC out power adaptor
1 x Battery clamps cable
1 x OBD II extension cable
1 x Non-16pin connector converting cable
1 x Password envelope
1 x Non-16pin connectors set
---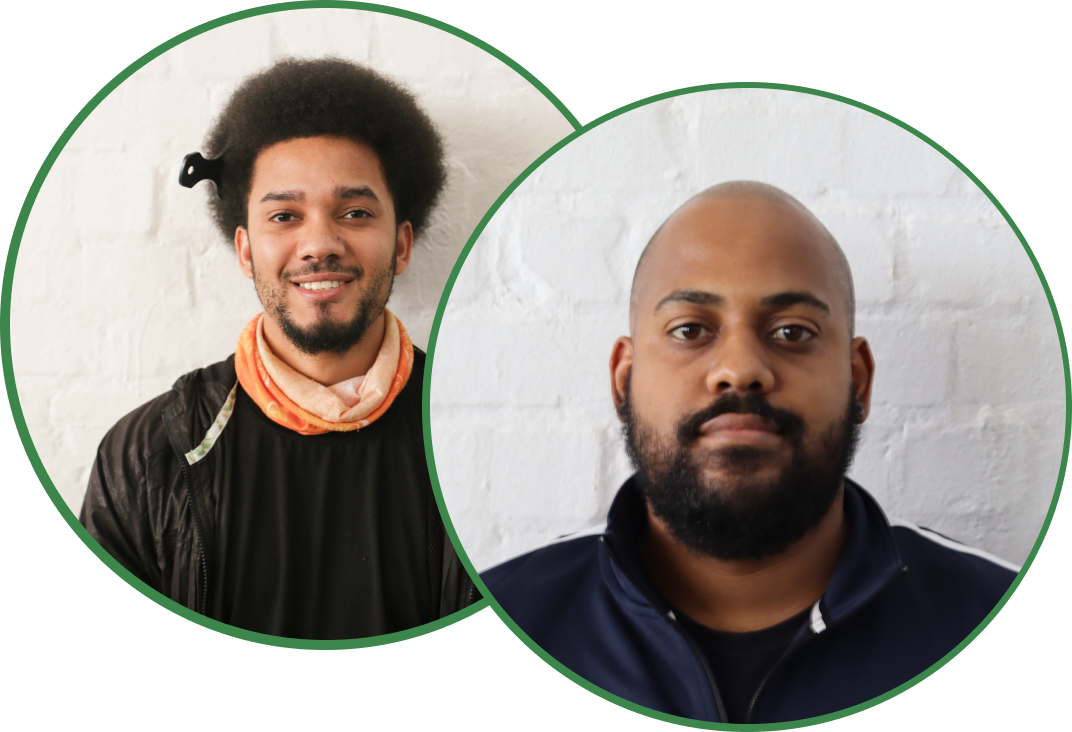 Let an Expert Help Me...?