This product comes with a 7day refund policy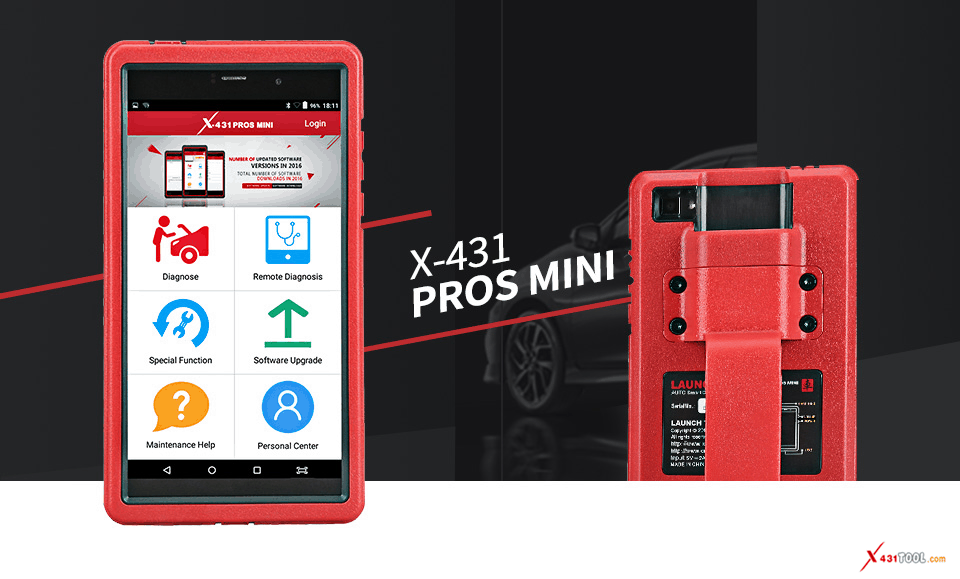 1. Global Version, No IP Limited! You can use it and update it everywhere around the world.
2. 2 Years Free Update Online on Launch Official Website.
3. Software One-Click Upgrade: Support online smart one-click upgrade for car software
4. Bluetooth Distance: 10M (Without Obstacle)
5. Quick Test: Support quick diagnosis and one-click DTC clearing for all car systems. Diagnosis is quick and easy.
6. Multiple Languages Supported: English, Italian, Swedish, Czech, German, Japanese, Russian, French, Spanish, Portuguese, polish, Turkish, Dutch, Greek, Hungarian, Arabic, Danish, Persian, Korean, Romania, Serbia, Finnish, Chinese
7. Online Help: Provide detailed DTC online help so that maintenance technicians can quickly rectify faults and improve diagnosis efficiency.
---
What's the Advantage of X431 Pros Mini:
1. Convenient Wireless Connectivity: The LAUNCH X431 PROS Mini utilizes Bluetooth and Wifi to allow you to connect this bi-directional diagnostic scanner with your car within a certain distance. This will really help you to save time and make your job easier.
2. New UI Interface: Equipped with a 6.9 inch tablet computer, and based on the Android OS, the LAUNCH X431 PROS Mini diagnostic scanner give you a new UI interface. Full color HD display with touchscreen menus for accessing all the X431 testing components.
3. Wide Car Model Coverage: supports all ECUs of 12V EFI car models, covering more than 150 car series and ten thousands of car models such as Maserati, Ferrari, Rolls-Royce, Bentley, Benz, BMW, Audi. The LAUNCH X431 PROS Mini kit includes 14 connectors for OBDII and other types of diagnostic standards for the EU and Asian car manufacturers.
4. Accurate Diagnosis: Launch's over 20-year car diagnosis technology and experience help develop original factory devices for most domestic brand car factories, enabling X-431 PROS MINI functions (such as DTCs, data streams, actuation test) to reach the level of original factories.
5. Many Special Functions: X-431 PROS MINI supports programmable installation module matching, coding, and common special functions for most car models. The special functions include service lamp one-click zeroing, throttle matching, steering angle resetting, brake pad resetting, tire pressure resetting, ABS bleeding, battery matching, tooth learning, injector coding, and DPF regeneration.
6. Data Stream and Waveform Recording and Playback: Data stream and waveform recording and playback can analyze the faults that only reoccur during driving and can quickly rectify car faults.
7. Remote Diagnosis: Realize remote diagnosis between maintenance enterprises, and between maintenance enterprise and customers.
---
X431 Pros Mini Functions:

Advanced All Systems Diagnoses
LAUNCH X431 PROS MINI can establish a data link to all systems and subsystems of the vehicle being serviced to:
* Retrieve ECU information of the tested control units including unit type, version numbers, and other specifications, etc.
* Read & erase DTCs to locate problem areas and clear the codes.
* View Live Data of each parameter item.
This comprehensive scanning process is able to locate the faulty systems and retrieve the DTCs related easily.
So you can work on all parts of the vehicle systems to enhance the performance, save energy, reduce emissions, and everything else.
Access to Vehicle's All Modules
With all system coverage, you will not have to purchase a separate device to perform different functions.
The following is a list of modern vehicle systems that this scan tool can get access to:
* Engines / Auto Transmission / Airbags / ABS / Cruise Control / Instruments / Self Leveling Suspension systems
* Seats / Doors / Gateway / Steering Angle / Air Suspension / Body Systems / Electronic Power Steering & Motor Assisted / Power Steering / Tyre Pressure / Rain Sensors / 4WD System Stabilizer / Intelligent Parking Assist/Door Motors / Audio Systems / Air Conditioning / Tiptronic / Anti Theft / Soft Top / Headlamp Leveling / Central Locking / Automatic Clutch / DPF Reset
* Electric Windows / Plip Programming / Heated Rear Window / Xenon Headlights / Wash Wipe / Fuel Burning Heater / Transfer Box / Seat Memory / Oil Life Service Reset / Sliding Doors / Electronic Throttle
* Navigation System / Rollover Sensor / Cruise Control / Multi Function Steering Wheel / Aux Heating / Electronic Parking Brake / Clutch Electronics…etc.
2. Special Functions
Launch engineers have been committed to making the modern vehicle routine maintenance as user-friendly as possible. Now with this diagnostic tool, you can easily do functions like:
1) Oil Reset: Close the oil service light and reset service mileage & service interval after replacing the engine oil.
2) Injector Coding: Write the new injector numbers into the ECU for accurate communication and injection control.
3) EPB Reset: Reset the new electronic parking brake for braking wheels safely again.
4) SAS Reset: Clear memories of the previous steering angle sensor and store the replaced one.
5) TPMS Service: Relearn TPMS sensors so that new sensors can be recognized by ECU.
6) ABS Brake Bleeding:Get a firm brake pad after air exhaustion.
7) BMS Service: Perform a reset on the vehicle battery for clearing the fault information and re-match the battery.
8) DPF Service: Clear particulate matter from the DPF filter to stabilize the filter performances
9) Tooth Learning: Finish tooth learning after changing crankshaft in the car engine, so the new part can be used.
10) Throttle Matching:Initialize the throttle actuators to the default state for regulating throttle (or idle engine) operations accurately.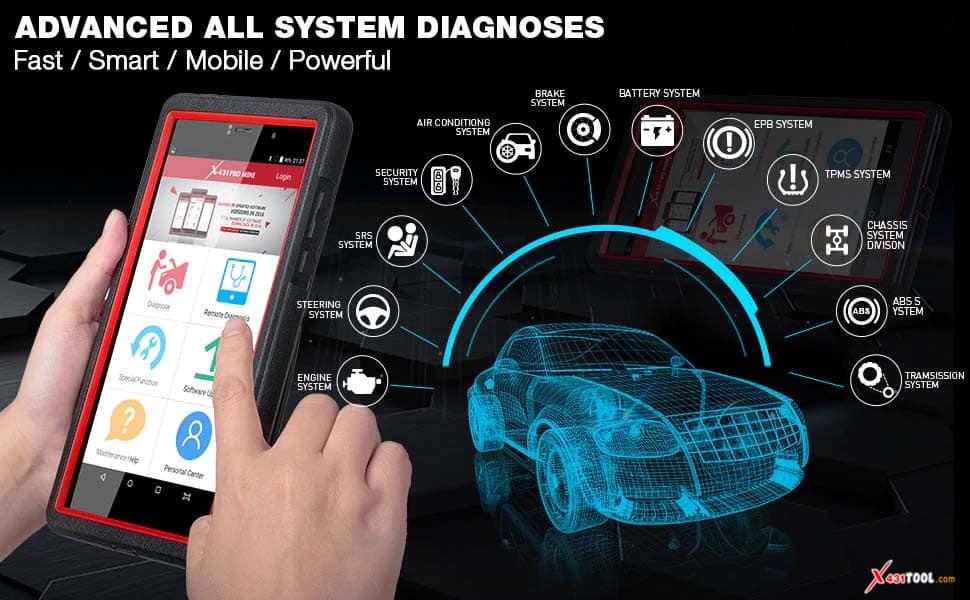 ---
Package List:
Main Unit:
1pc x X431 Pro S Mini
Connector:
1pc x Bluetooth Connector
1pc x Benz-38
1pc x BMW-20
1pc x CHRYSLER-6
1pc x FIAT-3
1pc x GM/VAZ-12
1pc x HONDA-3
1pc x MITSUBISHI/HYUNDAI-12+16
1pc x NISSAN-14+16
1pc x TOYOTA-17
1pc x TOYOTA-22
---
Vehicle Coverage and Function?
This unit will cover nearly all manufactures in the South African market.
For detailed info, please see click here
Search for the "Vehicle Type Name" (i.e "BMW") than like "Query" (top right)
Click on the logo, and a PDF will open with model and function support
If you want to confirm specific functions for specific models, please do before buying, as these tools will not cover all manufacturers, models and OEM functions.
Supported Car Models: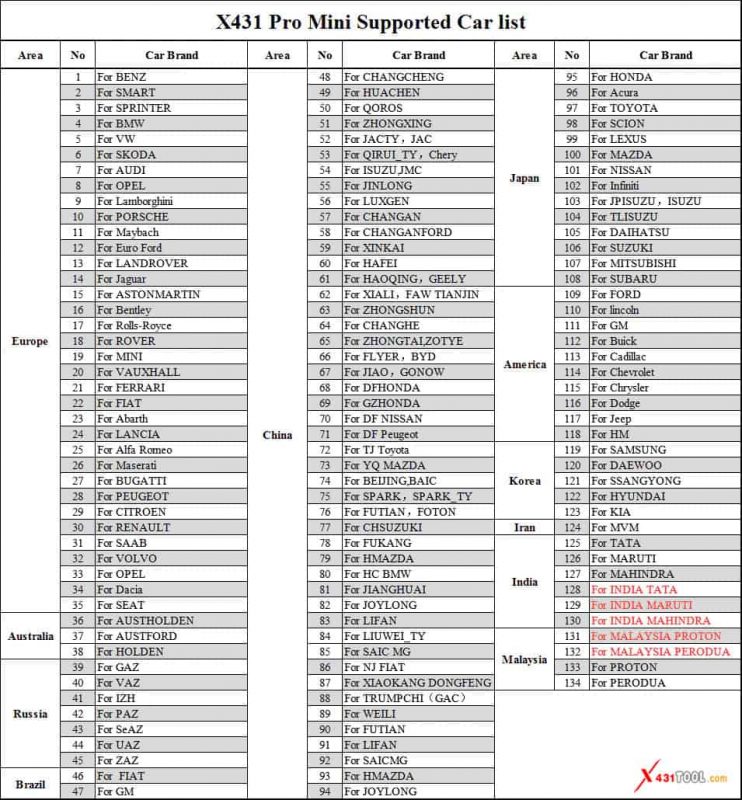 Updates
2 Year free updates
Thereafter, updates are optional, R9000 for a year licence
Customer Reviews
08/05/2019
Christo B.

ZA
Launch x431 pro s mini
Fast and very helpful service and great follow up regarding the delivery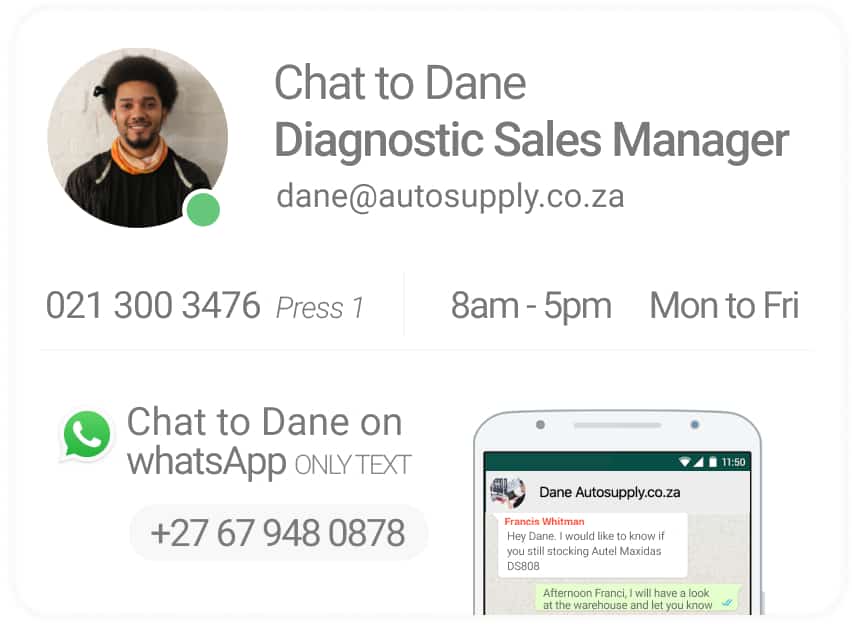 Any Questions, Need a Quote?