Fcar F7S-G Master – User Manual
---
F7S-G, a brand new FCAR diagnostic tablet platform, based on the Android system, communicates via WIFI and Bluetooth, powerful basic and special functions for all vehicles, remote support, and online update, and provides customers with all-in-one diagnostic solutions and maintenance service.
Coverage for Asian, European, and American cars and truck manufacturers.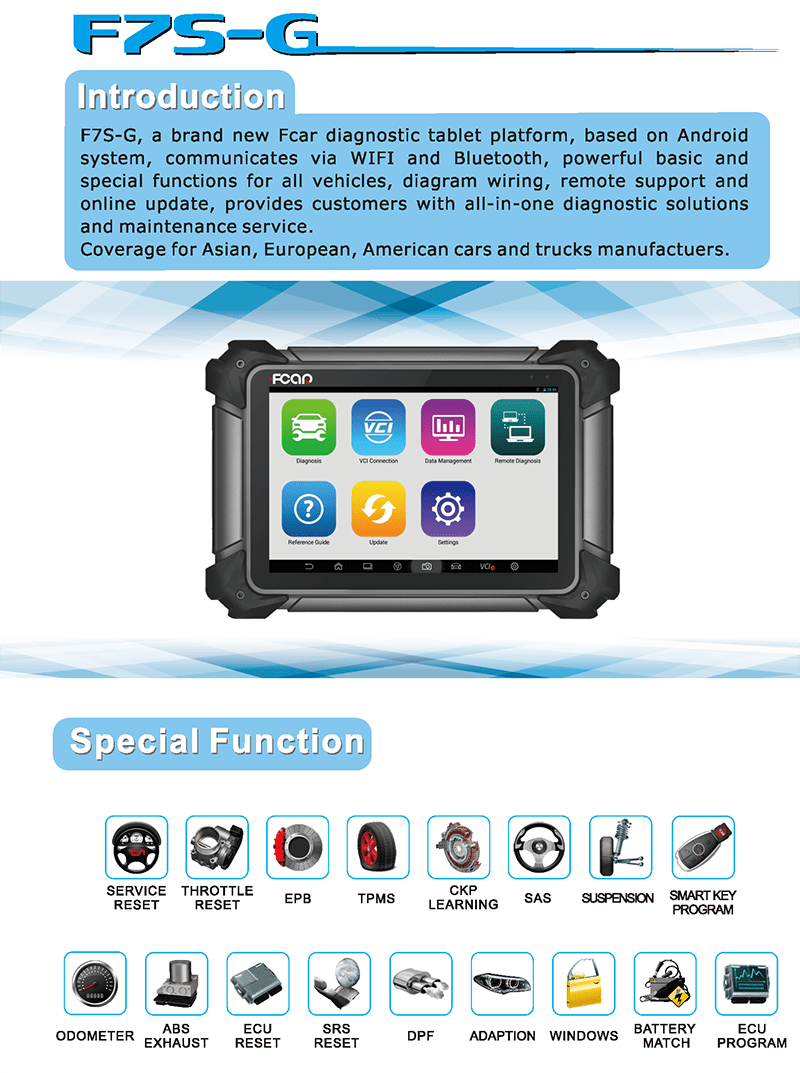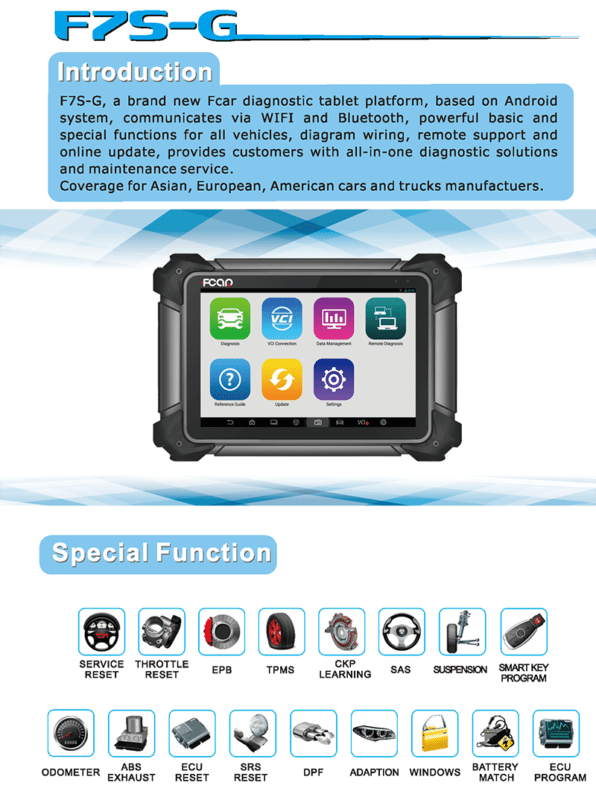 ---
Features
Instant remote technical support, via Teamviewer, Skype, Whatsapp, etc.
One-click feedback
One-click update
Online technical information
All-in-one diagnostic solution system for automotive aftermarket workshop
Multi-languages make it easy to understand and operate.
Localized vehicles, including Indian, Malaysian, and Australian.
12 months warranty and 1-year free software update.
The enormous database includes more than 200 vehicle models and technical materials to provide better and faster troubleshooting diagnosis solutions to meet various customers' needs.
As an all-in-one automotive diagnostic system to diagnose passenger & light commercial vehicles and heavy-duty trucks.
VIN automatic detection for passenger cars.
---
Coverage
On-road Vehicles:
Car (Domestic): Buick, Cadillac, Chevrolet, Chrysler, Dodge, Ford, GM, GMC, Lincoln, Jaguar, Jeep, Pontiac, Saturn
Car (Europe): Abarth, Alfa, Dudi, Bentley, BMW, Fiat, Jaguar, Land Rover, Maybach, Mercedes Benz, Mini, Opel, Peugeot, Porsche, Renault, SAAB, Seat, Skoda, Smart, Sprinter, Volvo, VW
Car (Asia): Acua, Daewood, Honda, Hyundai, Infiniti, Isuzu, Kia, Lexus, Mazda, Mitshubishi, Nissan, Scion, Subaru, Suzuki, Toyota;
Pickup (or Van): Silverado, Corolado, Ford (F150-750), Ford E-series, Dodge RM 1500-5500, GMC, Nissan Frontier, Toyota To
Bus
HD Trucks: Freightliner, Autocar, CCC, DAF, Fuso, GMC truck, Hino, International, Isuzu, Iveco, Kenworth, Mack, Man, Mercedes Truck, Nissan UD, Renault, Scania,  Peterbilt, Pierce, Sterling, Western Star, Volvo
Transmission and ABS: Allison, Bendix, Eaton, Wabco, ZF;
Off-road equipment:
BobCat, Case, Caterpillar,  Hitachi, John Deere, Kobelco, Komatsu, Sumitomo, Terex, Volvo
---
Software Coverage & Feedback *NB*
Like any diagnostic device, functions are not guaranteed on all vehicles and models…
To view the function list per OEM
2.) Under "Car Group List" choose the relevant category
3.) Click on the "message" link on the chosen OEM
4.) Click on "View Function List"
---
Functions
Scan system information
Scan/clear DTCs
Display data stream
Actuation test
24V Heavy Duty Trucks: 
Cylinder cutoff, Cylinder compression test, Cylinder balancing test, injector programming, oil light reset, DPF, Clutch adjustment, etc.
12V Light Passenger & Commercial vehicles: 
EPB, Key program, DPF, ECU Reset, ECU program, SAS, SRS reset, TPMS, Service Reset, Windows, etc.
---
Updates
Update: 1 year for free updating
---
Package includes:
Main tablet
VCI box
Adaptors:

Self Test
OBD II-16
Diesel 6
Diesel 9 (type 1 and type 2)
Cat 9 machinery
Volvo 8
OBD 1 or other adaptors (Isuzu 20, Benz 14, Isuzu 3, Mitsubishi 12+16, Benz 38, BMW 20, Nissan 14, Honda 3, Iveco 38, Kia 20, Hitachi 4, Hitachi 6, Hyundai 10, Daewoo 12)

Cables

Main cable (DB15 to VCI) 3Feet
Battery clip and cigar-lighter
USB Data cable
Videos
Isuzu Diagnostic