Autel BT608 – Intelligent Battery Tester and Electrical System Diagnostics
---
Autel Autolink Series's one of our most advanced, multi-functional scan tool series powered by our exclusive patented software which is designed for technicians to troubleshoot all vehicle systems for most of the major vehicles on the road today. With a built-in Electrical test tool.
---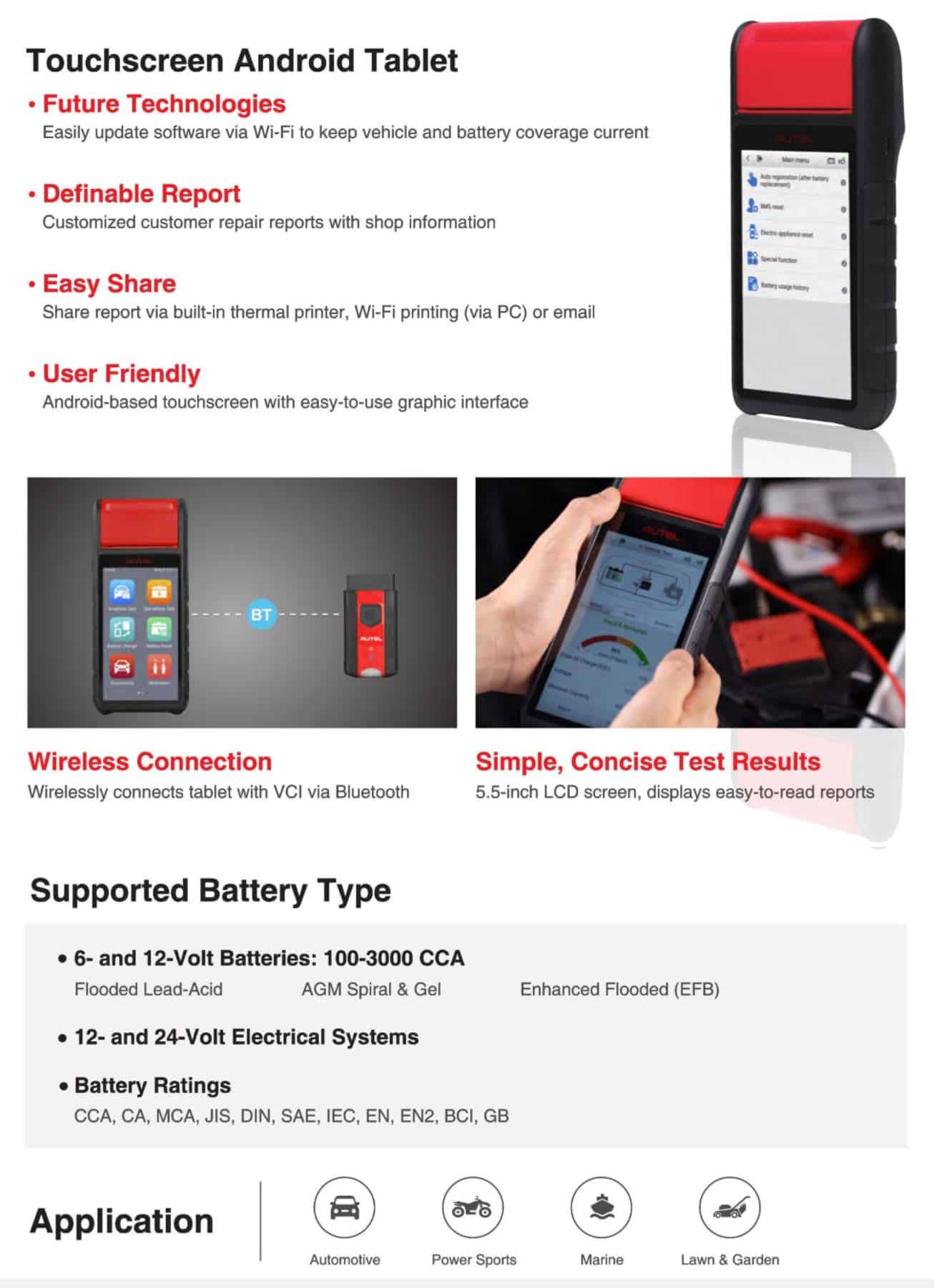 Features
Works on ALL 1996 and newer vehicles(OBDII & CAN)-domestic and import

Features the unique patented One-Click I/M Readiness Key for quick State Emissions readiness check and drive cycle verification

Capable of diagnosing 12V charging systems, starting systems and condition of the discharged battery

Provides quick and accurate load-free testing of most types of 12V batteries, including AGM, standard and maintenance-free batteries

Bright colour coded LEDs and built-in speaker provide both visual and audible tone for readiness verification

Easily determines the cause of the Check Engine Light (MIL)

Retrieves generic (P0, P2, P3, and U0), manufacturer specific (P1, P3, and U1) codes and pending codes

Turns off Check Engine Light (MIL), clears codes and resets monitors

Displays monitor and I/M readiness status (emissions)

Reads live PCM data stream, live O2 sensor test data, freeze frame data

Graphs data (1996 and newer)

Troubleshooter codes tips guide technicians to the root cause of trouble code faster, saving diagnosis and repair time

Memory/battery backup for off-vehicle data review and analysis

Multilingual menu and DTC definitions-English, Spanish and French, etc.

Retrieves vehicle information (VIN, CIN, and CVN)

Internet updateable and upgradeable

Prints data via PC
---
Why does the BT608 kit include a VCI for the OBD-II connector?
The bluetooth VCI will allow communication between the vehicle and the BT608 to:
– AutoVIN and feed MMY info to the BT608.
– feed battery registration from the BT608 to the vehicle (Battery Change icon)
– clear codes (Diagnostics icon)
– perform vehicle reset procedures if required (Battery Reset icon)
Battery Data
Autel has partnered with the Battery Council International (BCI) to provide OE battery specifications, battery locations, and vehicle reset procedures that may be required after replacing the battery. Disclaimer: Vehicle battery information does not cover all vehicles. Additionally, a vehicle's battery list may include more than one battery since BCI will list all options approved by the OE. A visual of the battery is still recommened when inputing battery type into the BT608.
Printing Options
Print reports immediately after performing a test or later, all reports are saved in Data Manager.
– Built-in printer (kit includes 2 rolls of paper)
– WIFI printing via the Autel PC MaxiSuite desktop app
– Email 
– Customizeable: Report title, shop information, technician name
---
Specifications  
Item
Description
Operating System
Android 9.0
Screen Display
5.5" LCD touch screen with   720*1280 resolution
Storage
32 GB
Connectivity
·              Wi-Fi (802.11 a/b/g/n/ac)

·              USB 2.0 , Type C

·              BT5.0+EDR

Camera
8 Megapixel
Input   Voltage
5 V DC
Working   Current
< 450 mA at 7.7 V DC
Internal Battery
7.7 V, 3000 mAh
CCA Range
100 to 3000 A
Voltage Range
1.5 to 36 V
Working Temperature
0° to 50° C (32°   to 122° F   )
Storage Temperature
-10° to 60° C (14° to 140° F )
Dimension   (L x W x H)
204 mm (8.03") x 90 mm (3.54") x 32 mm (1.25")
Weight
510 g (1.12 lb.)
---
Comparison Chart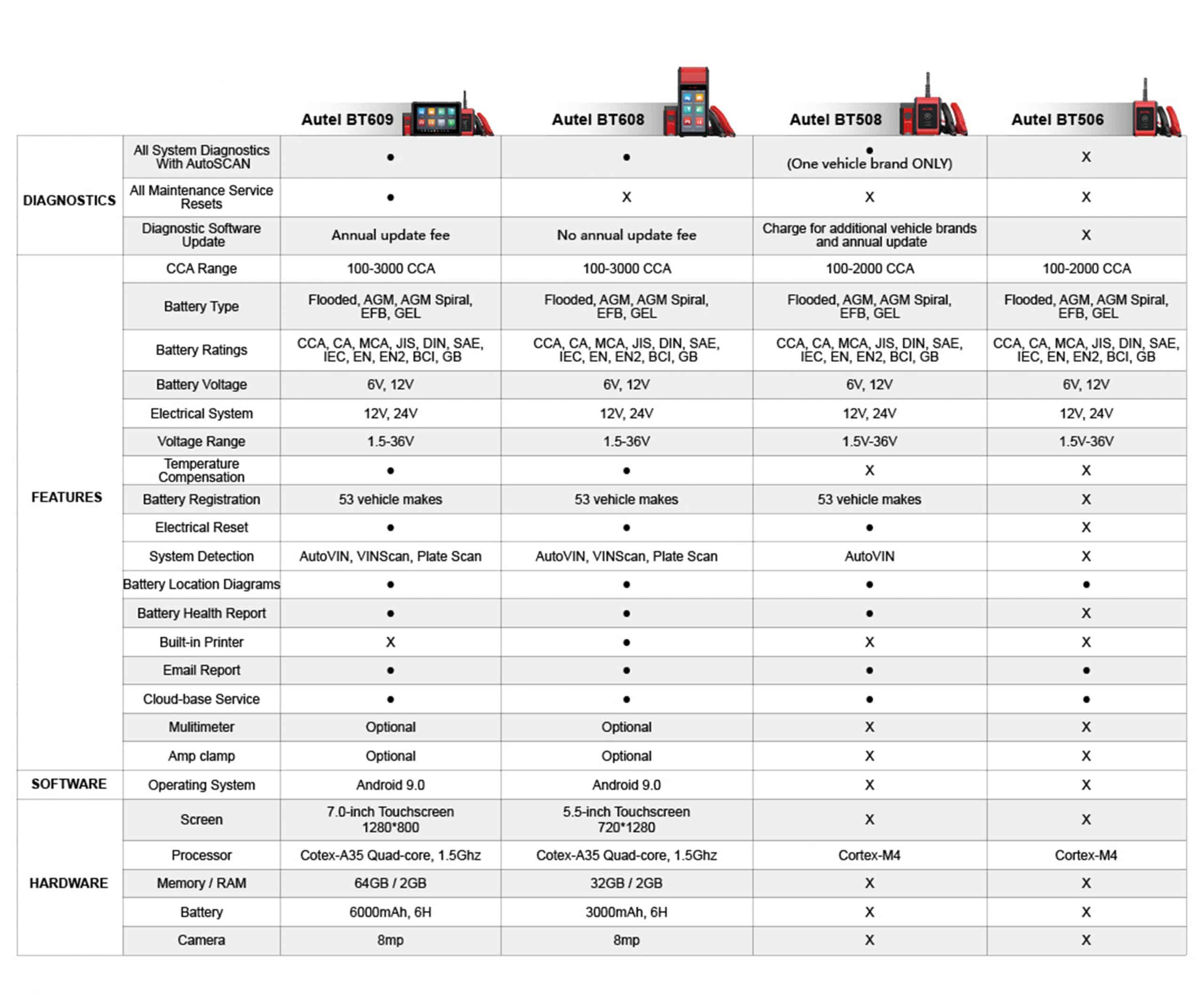 Accessories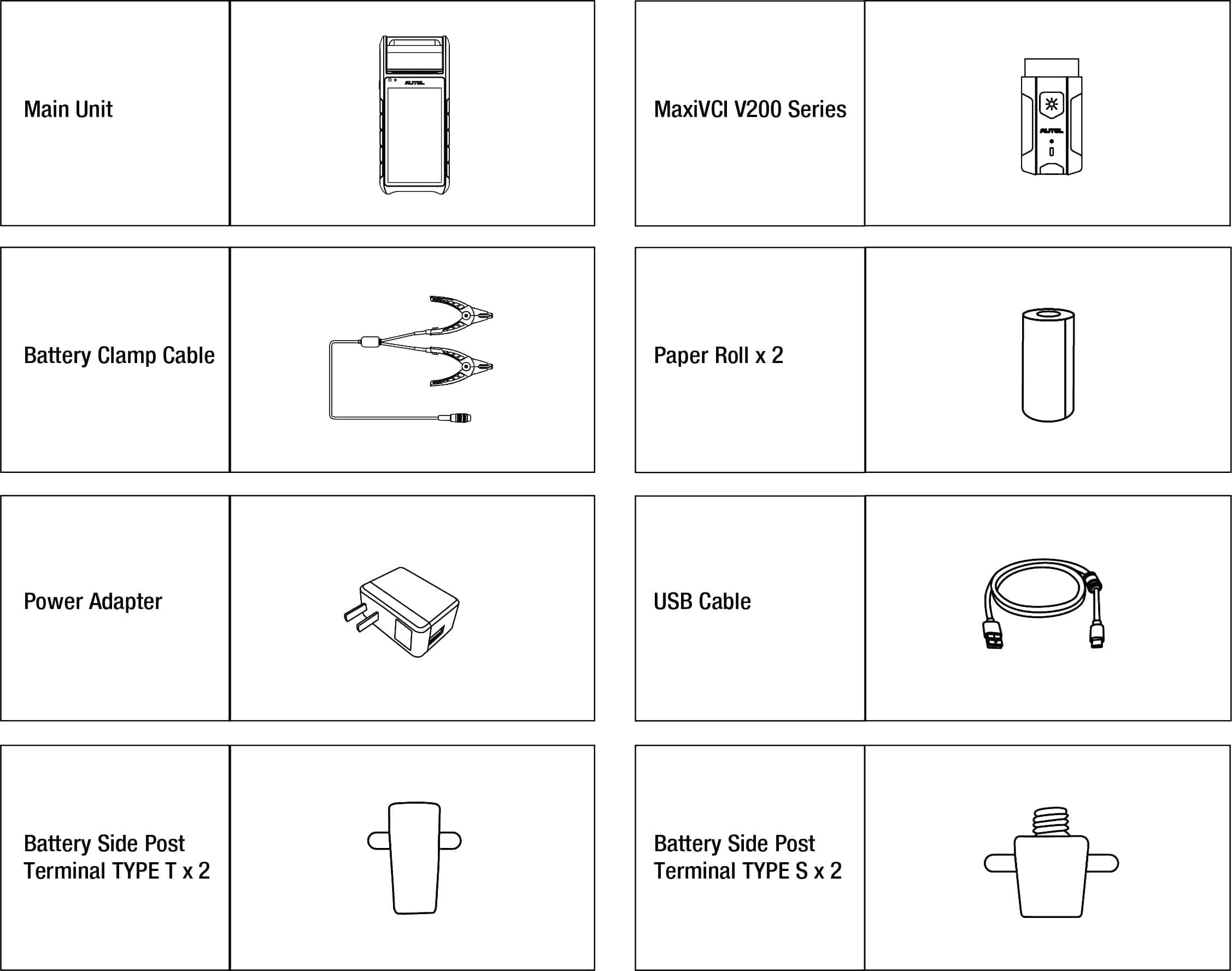 Take your diagnostics to the next level
TAKE YOUR DIAGNOSTICS TO THE NEXT LEVEL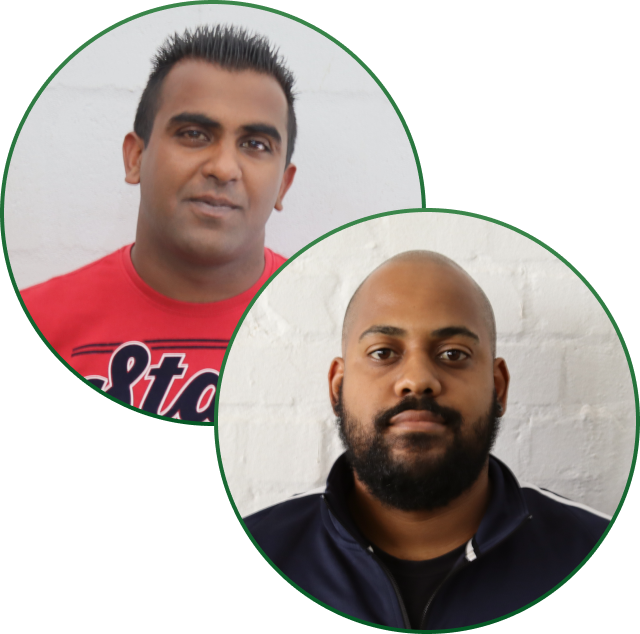 Have any questions? Need a quote? 
Let one of our experts
contact you
Let one of our experts contact you  Weekdays 8am to 5pm

Have any questions? Need a quote? 
Let one of our experts contact you – Weekdays 8am to 5pm

7 Day Money-Back
Guarantee

High-Quality
Affordable Product

Professional Sales
Technical Support