Prioritizing health care workers:
Protecting our health care workers (clinics/healthcare centres, & private practices) is our top priority for use of this PPE, so all orders will be prioritized accordingly
That being said, we are an importer and are NOT limited in the supply of the stock we can import.

Therefore we can still ethically supply the public and businesses with the goods they need to properly protect themselves and their staff.
---
3ply Medical Face Mask – (YY/T 0969-2013) (50pcs pack)
These medical masks are manufactured to the standards of the People's Republic of China Pharmaceutical Industry Standard and in accordance with the State Food and Drug Administration standard (YY/T 0969-2013) (Classification of International Standard: ICS 11.140, C48) and ATM (The American Society of Testing Materials)
Professional Grade Mask: Protect against dust, weather, prevents saliva droplets and blood splatter.Perfect cover your nose, mouth and chin for full protection.
Face Mask with Comfortable Elastic Earloop: 17.5×9.5cm with elastic earloop fits most people. Extra-soft ear loops eliminate pressure to the ears. Inner layer is made of soft facial tissue, no dye, gentle to the skin.
Wide Application: In the hospitals, restaurants, beauty salons, nail shops, pet shops and cleaning as well as other environments that require respiratory protection. Perfect mouth mask when travelling through congested airports bus terminals malls parks and busy city streets.
Specifications:
Inner (1 layer PP Spunbond), Middle (1 layer 50g PP Meltblown Non-Woven Fabric), Outer (1 layer  PP Spunbond Non-Woven Fabric)
Bacteria Filtration Efficiency (BFE): >98% (Size of typical bacteria at 3-5 microns)
Non-Sterile (not suitable for surgery)
3Ply Medical vs 3ply Surgical Mask?
There is not much difference in the appearance of the medical mask (Standard: YY/T 0969-2013) and a surgical mask (Standard: YY 0469-2011)
Surgical masks need to pass extra testing requirements like particle filtration efficiency (PFE) and splash resistance testing (synthetic blood penetration test)
Surgical masks need to be sterile.
3 Ply Medical vs 3 Ply Civil Masks?
Civil masks (GB/T 32610-2016) – This is the daily protective mask standard, not medical mask standard
Civil masks main function is to filter fine particles associated with pollution
The fabric quality & testing requirements are lower
Please be aware when buying a mask which standard you are buying as 3 ply surgical, 3 ply medical & 3 ply civil can all look the same but are different.
Therefore please make sure what 3ply mask you are paying for when you buy from any seller

---
| | | |
| --- | --- | --- |
| | | |
Product Images and Certificates
We only source our masks through existing reputable suppliers (we would not import otherwise).
Please note: We are only shipping items in packets of 50pcs (no boxes)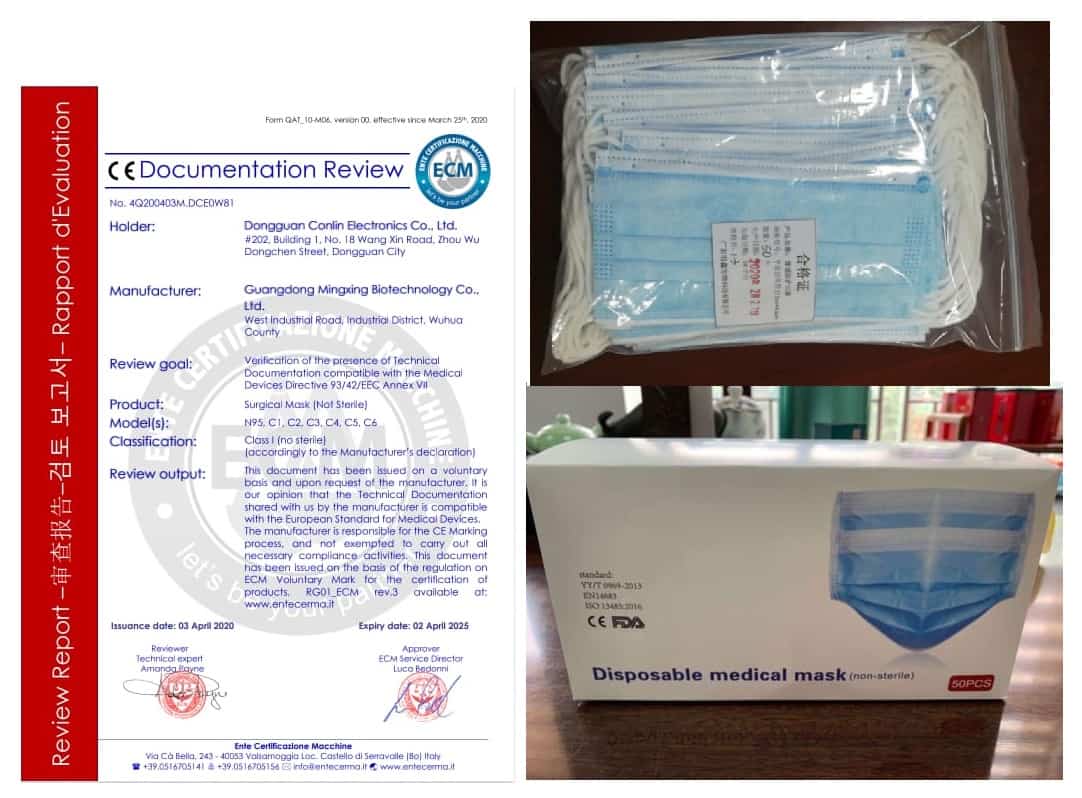 Customer Reviews
06/12/2020
Melanie M.
ZA
3 Ply Face Masks
Excellent service and quality of masks ! Thanks for the team at Auto Supply! Always professional !
05/22/2020
Denise K.
ZA
Medical face masks
Great feedback re deliver.
05/20/2020
Nina B.
ZA
Medical Face Masks as expected
Nothing special to say other than that these masks are exactly as we were expecting and are of good quality and offer comfort in protection.
05/16/2020
clive w.
ZA
3ply Medical Face Mask
I'm impressed with the tracking system although I haven't received the good s yet. The last tracking note informed me of a "Floor check at Johannesburg Facility" which hopefully means the goods will be arriving soon!
05/15/2020
Ron H.
ZA
Good
Measured up to expectations